Last month I  was sitting in the taproom of the Black Cloister Brewery. It was a late Thursday afternoon and myself, Spencer, and Tony (all regulars) were there. The three of us were chatting with Black Cloister's owner, Tom Schaeffer. The conversation was wide ranging but at one point focused on how Tom and his team choose names for their brews. Tom is a practicing Lutheran pastor and The Back Cloister is named after the monastery in Wittenberg, Germany where Martin Luther lived and studied. Not surprisingly many of the beers have names that have a Christian connection, including Marty, a Belgian blonde named after Martin Luther, Katie, a saison, named after Luther's wife Katherine von Bora, and Lil' Hussy, a German Pilsner, named after Czech priest and early Christian reformer Jan Hus. Tom mentioned that they were brewing a Black saison and that the brew was still without a name. A few suggestions were thrown out including one by myself – Black Madonna. Tom liked my suggestion, as did the rest of the Black Cloister team apparently. So in a serendipitous twist of fate I found myself in the unexpectedly ridiculous position of having named a beer.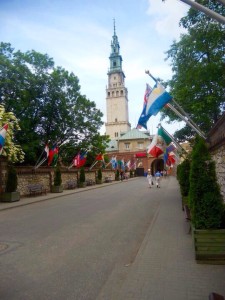 But why Black Madonna? Why had I suggested that particular name? Back in the summers of 2011 and 2012 I had spent some time as a Visiting Professor in the European Faculty of Engineering at Czestochowa University of Technology in Poland teaching courses in Industrial Geography and Regional Development to graduate students. Czestochowa is a city of about 240,000 people on the Warta River in southern Poland.
While in Czestochowa I visited the Jasna Gora Monastery which was just a short walk from my hotel. I am not alone in making a visit to Jasna Gora. Somewhere between four and five million tourists from eighty or so countries visit Czestochowa every year. Most are pilgrims who come to visit Jasna Gora. The monastery contains an icon of the Virgin Mary with the Christ Child known as the Black Madonna (also known as Our Lady of Czestochowa). A Black Madonna is a statue or painting of the Virgin Mary in which she is depicted with dark skin. Many of these statues or paintings were created in the medieval period or earlier. Of all the Black Madonnas that exist in Europe by far the most famous and revered is the Black Madonna of Czestochowa. The icon in Czestochowa's case is a four foot high painting. The blackness is due to soot residue from centuries of votive lights and candles discoloring the painting. The miracle for which this Black Madonna is most famous occurred in the winter of 1655 when she is credited with saving the monastery from a Swedish attempt to overrun and capture it. Seventy monks and 180 volunteers held off 4,000 Swedish troops for forty days, after which the enemy retreated. In 1656 King John declared Our Lady of Czestochowa as Queen of Poland and made the city the spiritual capital of the nation.
Toledo's Black Madonna is a black saison. It has an ABV of 7%. According to the brewery's description of the beer it is an "icon of the saison style".  And, in a very personal way, it has come to symbolize my connection with the Polish city of Czestochowa. As I  sit in The Black Cloister sipping on my Back Madonna I recall with great fondness my time spent in Czestochowa. They were visits that spawned and cemented a life-long friendship with, Piotr Pachura, my host while in Czestochowa. Piotr and I have  become good friends. We manage to get together a couple of times a year (usually at  academic conferences in Europe), have collaborated on projects together,  and chat via Skype every few months. I think he will be happy that there is a beer in Toledo, Ohio whose name draws its inspiration from his hometown. As they say in Poland Na zdrowie!