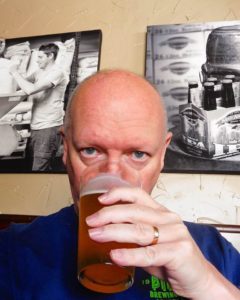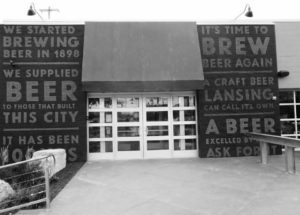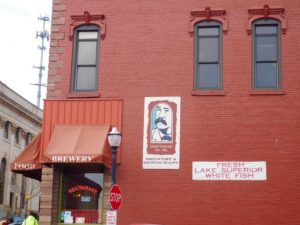 According to the Brewers Association most Americans live within ten miles of a craft brewery. While I have been aware of this fact for some time it really struck home earlier this summer when I was returning home from a family wedding. The wedding was in Noblesville, IN which is about three hours and fifteen minutes southwest of Toledo by car. The wedding was on a Saturday afternoon and so we stayed overnight in nearby Fishers, IN and drove home the next day. Before we left to drive home we (myself, my wife, youngest daughter, and my youngest daughter's fiancé) had a discussion about where we would stop for lunch. As I thought about it the idea popped into my head that we should find a brewpub and have lunch there. Indiana has over a
hundred craft breweries – surely there was one between Fishers and Toledo. After a look at the map and some googling we found that Mad Anthony Brewing Company in Fort Wayne, IN would be open and serving lunch. Fort Wayne was about an hour and forty minutes from Fishers, meaning that we would arrive there just after noon. So we stopped there – had a leisurely lunch, enjoyed a few beers, and picked up a couple of six-packs to bring home to Toledo. A few weeks later we were going to another wedding, this time in East Lansing, MI which is about an hour and forty minutes northwest of Toledo. The wedding was on a Friday evening and so once again I found myself thinking about getting there in time for a late lunch in a local brewpub.  This time we decided on the Lansing Brewing Company which is located in the adjacent municipality of Lansing, MI. We had a great meal and this time I came away with a t-shirt and a crowler of their Official Union Golden Ale. A few weeks ago my wife and I drove five hours to Mackinaw City, MI. Again we found a brewpub for lunch – this time the Crankers Restaurant and Brewery in Mount Pleasant, MI. On the same trip while in Marquette, MI we had lunch in The Vierling Restaurant and Marquette Harbor Brewery.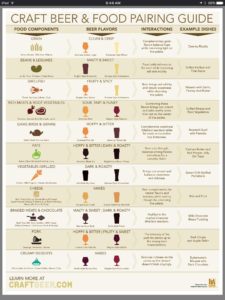 One advantage of stopping off for lunch at a brewpub is that the standard of the food tends to be, in my opinion, above average; others share my opinion. It is not Michelin star quality by any means but it is usually a step above typical bar food. I don't think this is serendipitous. Brewers take great pride in providing their customers with high quality beer. I suspect they realize that they need to provide food of above average quality to match their beer. Sub-standard food would almost certainly spoil the customer's overall experience of the brewery, so providing food of a certain quality is a necessity. The Brewers Association, the trade group that represents the interests of craft brewers, are assisting craft brewers who want to promote their food as accompaniments to their beer. The Association have published a small pamphlet titled American Craft Beer and Food: Perfect Companions that outlines the principles underlying beer and food pairing. According to The Brewers Association "There's a perfect beer for just about any main dish, as long as you remember to match the intensity of the beer to the food. For lighter items such as grilled fish, a Pilsener is a treat. For roasted chicken, a malty lager or pale ale can be great. The sweet heat of barbecue can be tamed by a beer like a Maibock or an abbey-style dubbel. For grilled or roast beef, a hearty porter or stout is an excellent choice."
An increasing number of restaurants are now taking seriously the idea that craft beer can be an accompaniment to the food they serve. These tend to be more upscale restaurants (I don't believe Applebees are doing it yet) who, for many years, have been pairing wine with food. One such restaurant is Luksus. Located in Brooklyn, NY this Scandinavian-inspired restaurant serves neither cocktails or wine. It does sell craft beer, however; offering  an impressive portfolio of world class brews. Dinner at Luskus will set you back $125. For an additional $55 they will provide a beer pairing to accompany your meal. Sound expensive? Well the restaurant does happen to have a Michelin Star. I doubt that I will ever eat in Luskus or any other Michelin-rated restaurants. I am not a foodie. Before brewpubs came along and I was visiting a strange city I typically dined in places that had the words "Irish" and "Pub" somewhere in their name. However, I do appreciate the fact that higher-end restaurants are now recognizing that beer is food-friendly and can compliment the food coming out of their kitchens.
Of course if you decide to dine at home pizza is a popular choice. Americans spent over $38 billion on pizza in 2015. And, not surprisingly, some beer styles complement particular pizzas more than others. So make sure you have some Pilsner on hand to go with that pepperoni and mushroom pizza or a nice saison for the spinach, olive, mushroom, and garlic pizza when it arrives.
As I write this entry Halloween is just around the corner. So as I was navigating my way around the internet the other day I came across an article in USA Today title "Five Beers to Pair with your Kid's Halloween Candy". Apparently Samuel Adams Boston Lager goes well with candy corn while Left Hand Brewing Company's Milk Stout goes well with Reese's Peanut Butter Cups. The article reminded of another I had seen in the spring that gave advice as to which beers paired best with which Girl Scout Cookies. As I read articles like this it makes me realize that  one of the things that the craft beer revolution has achieved, besides producing lots of really great beer, is that it has brought a lot of fun back into people's lives.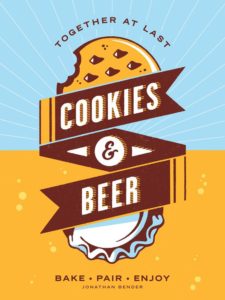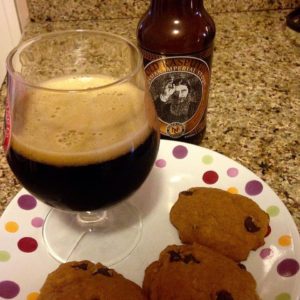 Not only can beer be paired with food it can also be used an ingredient in cooking. Beer can chicken is perhaps the most basic example. Believed to have its origins in the southern United States in the 1970s this is as simple as cooking with beer gets – smoking a chicken with a can of beer stuffed into the body cavity between its legs. There is even a book devoted to this delicacy – Zen and the Art of Cooking Beer-Can Chicken: The Definitive Guide by Cary Black and Dan Black. Indeed books about cooking with beer are fairly common – others include Irish Stout Recipes, The Craft Beer Kitchen, and Salut!: The Quebec Microbrewery Beer Cookbook. Last November I was in Portland, OR perusing the beer section of Powell's book store. One of the books that caught my eye was Cookies & Beer: Bake, Pair, Enjoy by Jonathan Bender. I ended up buying it for my friend Paula who enjoys cooking and whom I thought would appreciate it. A few weeks later Paula and I met up for coffee and I was rewarded with a batch of homemade pumpkin chocolate chip cookies. According to the cookbook these particular cookies pair with Old Rasputin Imperial Stout from North Coast Brewing Company in Fort Bragg, CA. And so that's the beer I purchased to enjoy with the cookies.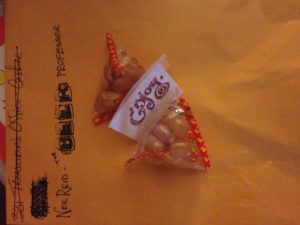 Just the other day I returned to work after a couple of days of vacation. I had been in Austin, TX taking in the U.S. Formula 1 Grand Prix. I walked into my office to find an inter-office mail envelope on my desk.  It was addressed to "Neil Reid – The Beer Professor". I opened it up and inside were two packets of beer-flavored jelly beans with a note with the word "Enjoy" attached. They were a gift from my friend Tim Sanderson who works as a college computer administrator in the College of Health Sciences at my university. Manufactured by the Jelly Belly Candy Company the beans are named "Draft Beer". Beer flavored jelly beans – a long way from a Michelin Star restaurant, but that didn't stop me enjoying them.