I just returned from a ten day trip to Asia, which included two days  in Hong Kong. The main purpose of my trip was to attend the twenty-fifth biennial Pacific Conference of the Regional Science Association International that was held in Tainan, Taiwan. When my travel agent told me that getting to Tainan necessitated an overnight layover in Hong Kong I jumped at the opportunity to extend that to three nights. I had never been to Hong Kong before and so this seemed like the perfect chance to spend a few days there.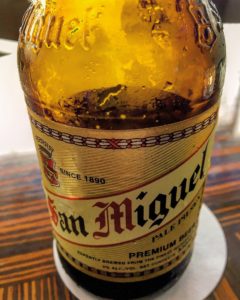 The craft beer scene in Hong Kong, as it is in much of Asia, is an emerging one. I tried to get a count of the number of craft breweries in Hong Kong. Wikipedia listed eighteen craft breweries, sixteen of which have been established in 2013 or later. The most popular beers consumed in Hong Kong are those brewed by San Miguel Brewery, a Philippines-based brewery that has brewed beer in Hong Kong since 1948. In 2015, 33% of beer consumed in Hong Kong was brewed by San Miguel. Not surprisingly, beer imported from Europe is popular, with Carlsberg and Heineken being the market leaders.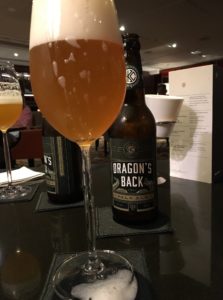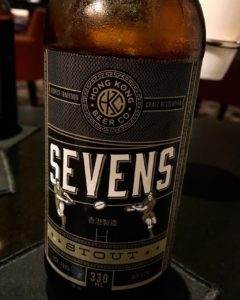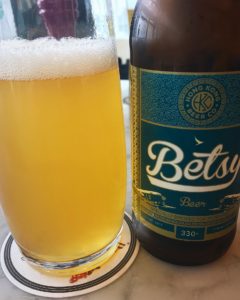 While in Hong Kong I sampled quite a few beers brewed by the Hong Kong Beer Company (HKBC). HKBC was established in 1995 as the South China Brewing Company. The switch to its current name occurred in 2003. Another change took place in 2013 when the brewery was purchased by Devin Otto Kimble and Daniel Flores, owners of Singapore's Brewerkz Restaurant & Microbrewery. The actual brewing at HKBC is done by Simon Pesch, a former brewmaster at Pyramid Alehouse in Berkeley, CA. I tried three of HKBC's beers while in Hong Kong – Dragon's Back Pale Ale, Sevens Stout, and Betsy Wheat Ale. The last of these three has quite an interesting backstory. Betsy is brewed in collaboration with Cathay Pacific, Hong Kong's flagship air carrier. It has been well documented that, when in the air, the dryness and low pressure combine to dull one's taste buds. For example, a study by the Fraunhofer Institute for Building Physics found that flying at 35,000 feet reduces the sensitivity of a person's taste buds to sweet and salty foods by anywhere between fifteen and thirty percent. This inspired HKBC, earlier this year, to create Betsy. According to HKBC Betsy is "a unique wheat beer" that is brewed "to combat the negative effects of airline cabin conditions on passengers' taste buds". HKBC are not the first brewery to brew beer especially for air travel. Since 2014, the Copenhagen – based craft brewery Mikkeller has been brewing beer for the Scandinavian airline SAS. And it's not only beer – Australian airline Virgin Australia serve a Shiraz wine (The Duo) from South Australia's St. Hallett Winery that is blended to be served on aircraft.
I was having lunch in Hong Kong International Airport, waiting to catch my flight to Dallas, when I spotted Betsy in the restaurant's cooler. So I ordered one, realizing that I was consuming it at twenty feet above sea level (the elevation of Kong Kong's International Airport) and outside the stuffy confines of an economy class cabin. The beer is named after an aircraft  called"Betsy". Betsy was Cathay Pacific's first aircraft, a Douglas DC-3, that flew passengers around the region during between 1946 and 1953. As it modernized its fleet the airline sold Betsy in 1955 and it was soon forgotten. Then, in the 1980s, Betsy was found flying cargo in the Australian outback. In 1983 Cathay Pacific purchased Betsy, restored her 1947 livery, and then donated her to the Hong Kong Science Museum, where visitors can see her today.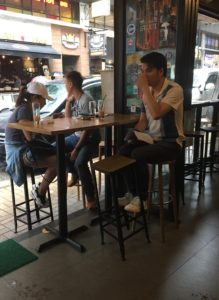 In addition to some of the beers brewed by the Hong Kong Beer Company I did sample quite a few more of Hong Kong's other craft brews. Of those I tried my favorites were Thundergod Pale Ale by Moonzen Brewery and Classic Pale Ale by Young Master Brewery. While roaming the streets I was fortunate enough to happen upon the Kowloon Tap Room. This is a small bar that has a number of Hong Kong craft beers on draft. This is one of those bars whose front is two garage-type doors which, when rolled-up, allow the bar to become a extension of the sidewalk. It is a great place to sit, enjoy a couple of beers, and watch Hong Kong go by.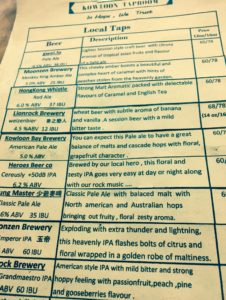 Craft beer is not ubiquitous in Hong Kong, but it is not a rarity either.   Both of the hotels I stayed in, a Sheraton and a Marriott, had local craft beers on draft. The industry is in its fledgling stage. Like the United States craft beer attracts a younger clientele, with the requisite disposable income. Craft beer is not cheap in Hong Kong. At the Kowloon Taproom a 12oz pour craft beer ran 60 Hong  Kong Dollars (about US $7.75). However, that number should be placed within context. According to a 2015 study of beer prices in seventy-five cities across the globe by the travel search site GoEuro, Hong Kong is the second most expensive city in the world in which to drink beer. The average price of a 12oz beer is US $6.16.
Hong Kong was my first international trip this year. In the coming months I will be in Denmark, the Netherlands, Italy, Poland, and Canada. I look forward to exploring the craft beer scene in all of these countries.