This is my third entry about my recent trip to Copenhagen, Denmark. You can read my other two entries here and here. I was there to attend, Beeronomics 2017, the biennial conference of the
Beeronomics Society.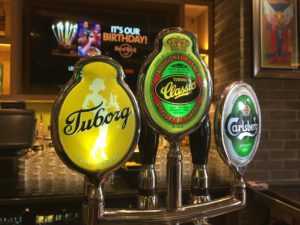 Let's begin with some facts about the Danish brewing industry and beer market. When it comes to beer Denmark is, in many ways, a very unremarkable country. The Danes themselves are not particularly big beer drinkers. Their average annual consumption of sixty litres per capita places them nineteenth in the European Union; well behind Europe's leading beer drinkers, the Czech Republic whose residents in 2015 consumed an average of 143 litres per capita. Indeed, Danish  beer consumption per capita  decreased by thirteen percent between 2010 and 2015. With a fifty-three percent market share Carlsberg is the most important brewer in Denmark. Second place is held by Royal Unibrew who have a twenty-five percent market share. The most popular style of beer is Pilsner, which accounts for eighty percent of the Danish beer market. Craft beer accounts for approximately five percent of the volume of beer sold in Denmark; this is up from ~two percent in 2005. Of the 150 breweries in Denmark, one hunded are microbreweries. Interest in and demand for craft beer started much later in Denmark than in the United States, with some commentators signaling 2002 as a watershed year for the Danish craft beer industry. Between 2002 and 2008 the number of breweries in Denmark increased from nineteen to one hundred.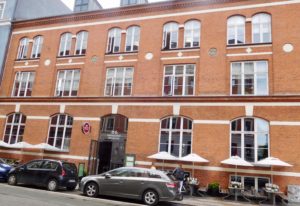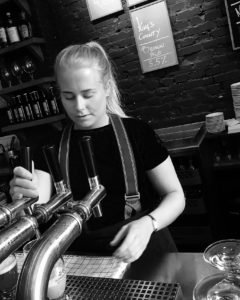 I was able to visit two of Denmark's microbreweries while in Copenhagen – Nørrebro Bryghus and Warpigs. Nørrebro Bryghus is named after the Copenhagen neighborhood (Nørrebro) where it is located.  It seems an appropriate neighborhood for a craft brewery; it was recently ranked as the twelfth most hipster neighborhood in Europe.  Nørrebro Bryghus was opened in 2003 by former Carlsberg brewmaster Anders Kissmeyer. Like many European craft brewers, Kissmeyer was inspired by the craft brewing movement in the United States. Specifically, he found inspiration from brewmaster Garrett Oliver, whom he met on a visit to Brooklyn Brewery. Nørrebro Bryghus made international headlines earlier this year when they made a beer using malted barley that had been fertilized by the 50,000 litres of urine that had been generated from 2015 Roskilde Music Festival. The brew, appropriately enough, was called Pisner and Nørrebro Bryghus became known as the brewery that puts the "P" in Pilsner. The Nørrebro Bryghus brewpub that I visited is located in an 1857 building. There is a second production brewery about twenty minutes away. The beers brewed in the Nørrebro Bryghus are listed on green chalkboards in the taproom while those brewed at the other location are on black chalkboards. I tried a number of Nørrebro'a beers on my two visits to the brewpub – Beer With No Name (a 7.7% ABV Stout), Zee Germans Had It Figured Out (a 6.6% ABV Märzen), Bombay Pale Ale (a 6.5% India Pale Ale), Ravnsborg Rød (a 6.5% ABV Irish Red Ale), Twenty 2 Lager a 5% ABV Pale Lager), La Secret De La Lcorne (a 5.9% ABV Farmhouse Saison Ale), and Nørrebro Pilsner (4.6% ABV). Nørrebro Bryghus is a great place to spend a couple of hours while in Copenhagen; the staff are friendly and attentive, the beer selection is good, and the general ambience very pleasant.

The second brewey I visited was Warpigs. Warpigs is a collaboration between the Danish brewer Mikkeller and 3 Floyds Brewing Company from Munster, IN. Its beers, brewed on site, are billed as "American-Danish style brews"  I am not quite sure what that means, or what constitutes an American-Danish style brew, but I suppose when you are Three Floyds and Mikkeller you can use that type of language. Anyway, at any given time there are generally twenty-two Warpigs' brews on tap. As well as brewing beer, Warpigs has a kitchen. It specializes in "authentic Texas barbecue". The brewery, which opened in 2015, is located in Copenhagen's old meat packing district. In Danish the district is called Kødbyen, which translates as Meat City.  At one point, during the last century it was said to have had the highest density of butchers in Europe.  Gradually, however, one-by-one, butchers left. It was in danger of becoming an abandoned ghost town of sorts. Then, in 2005, the local council had the idea to redevelop the district à la Manhattan's meat packing district.  The result has made Kødbyen one of the trendiest entertainment districts in Copenhagen. It is home to art galleries, boutiques, co-working spaces, cafes, bars, restaurants, and night clubs. There are still a handful of butchering operations in the neighborhood, so that  "in the morning, you see butchers in white coats with blood on their hands walking around the streets of the meatpacking district." Adaptive reuse of old building by craft brewers is one of my research interests within the craft beer industry. So I was particularly looking forward to visiting Warpigs. When you walk into Warpigs, a former butchery,  you get a feel for the building's previous use. To a large extent, that is because there are a lot of restrictions placed on the changes that occupants are permitted to make to the interior of any building. When I walked into Warpigs, I immediately noticed the white tile walls and the hooks in the ceiling from which carcasses used to hang.  Warpigs is located in what is known as the White Meat District (there are also Brown and Grey Meat Districts). The White Meat District comprises twelve acres of buildings dating from the 1930s. It has been described as "a pinnacle of functionalist architecture". According to Wikipedia, "functionalism is the principle that architects should design a building based on the purpose of that building". I am no student of architecture, but that definition certainly resonates with me when I think of Warpigs and other buildings I saw in Kødbyen.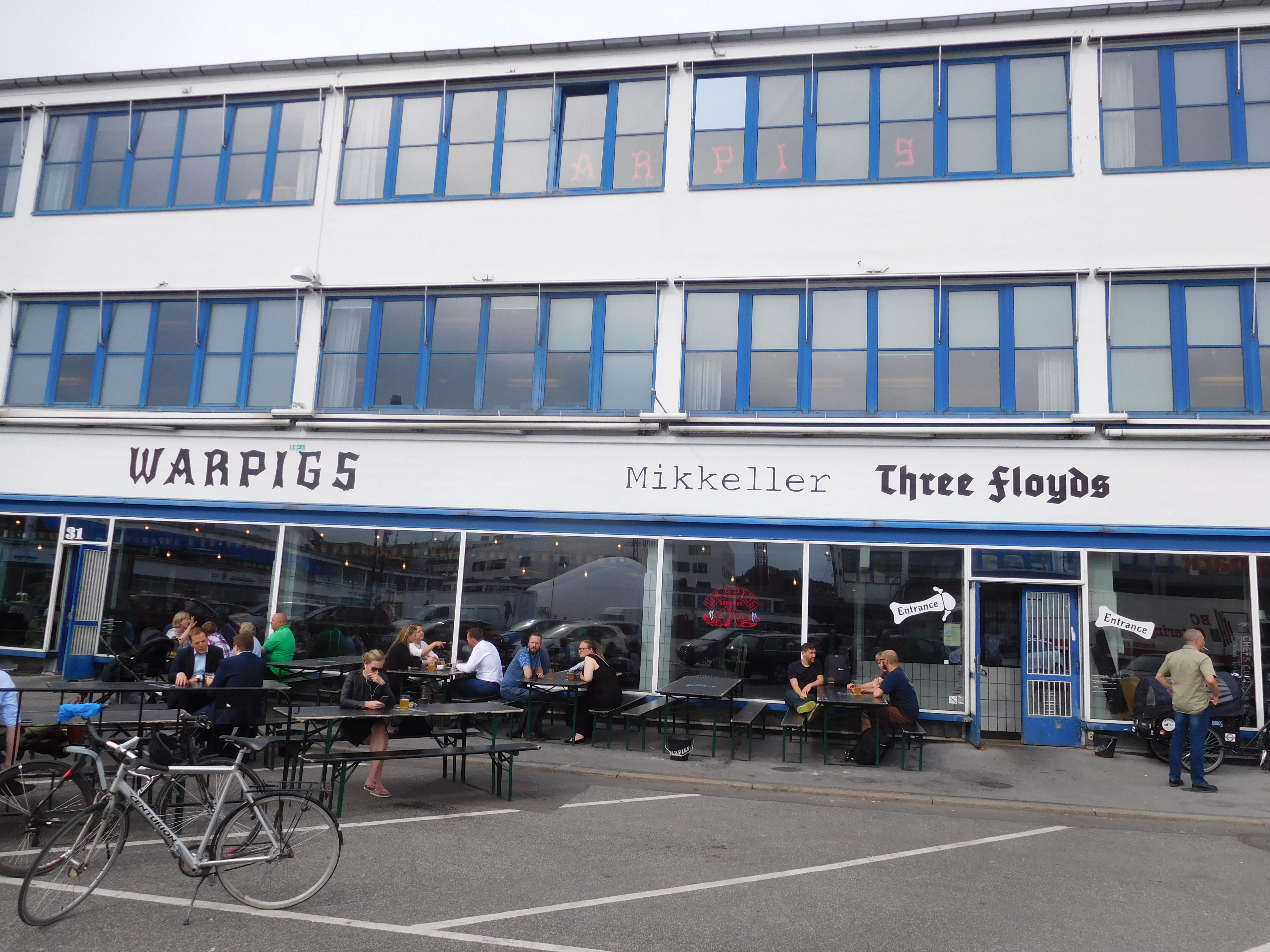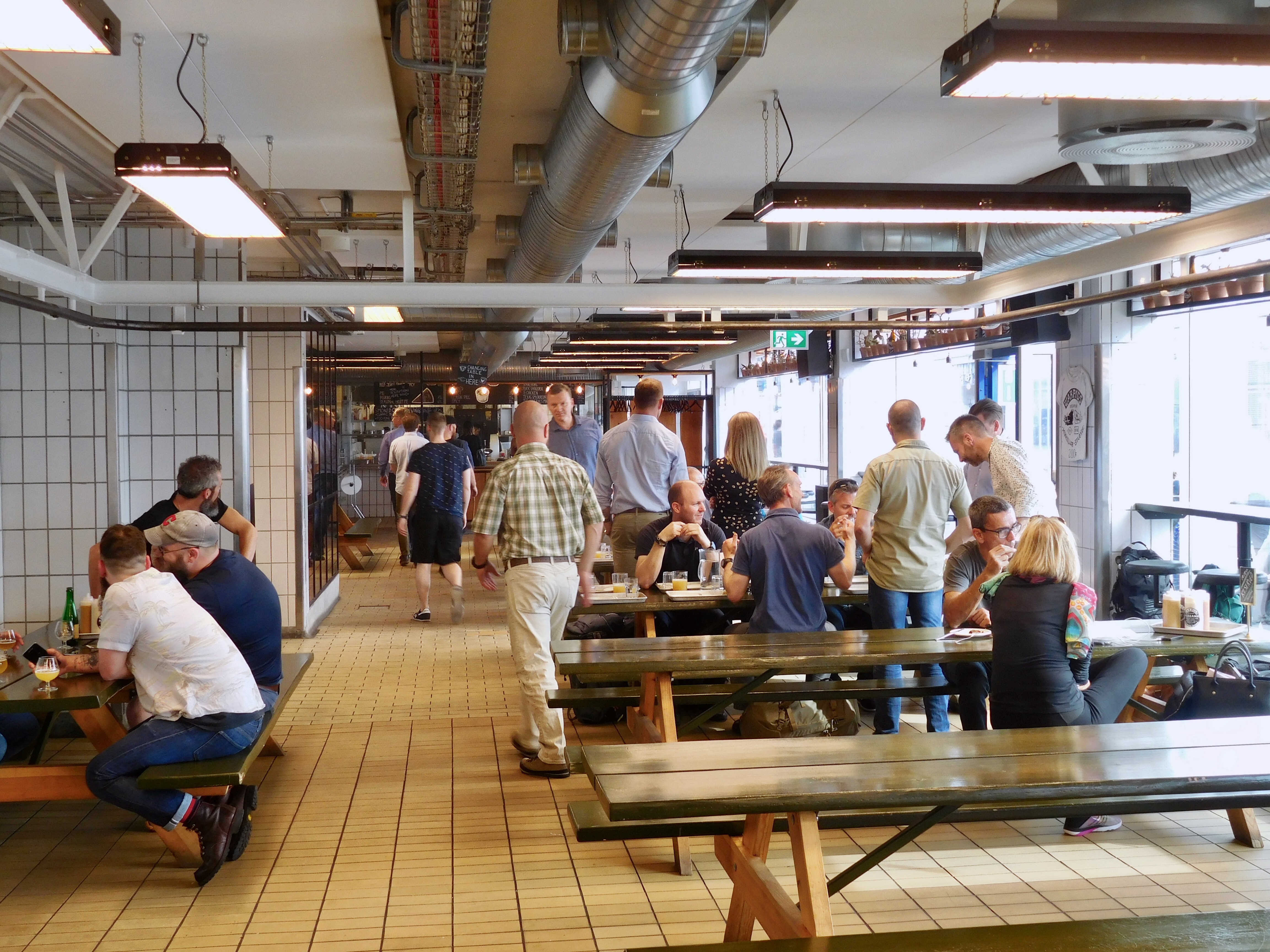 Warpigs, as noted, is a joint venture between Mikkeller and 3 Floyds.  Mikkeller is an iconic name within the world of craft beer. Mikkel Borg Bjergso, a former high school science teacher, founded Mikkeller in 2006. The company made its name as a gypsy brewer.  A gypsy brewer is a brewer that does not own a brewery, but rather creates recipes and contracts with existing breweries to brew them. Mikkeller is arguably the most famous gypsy brewer in the world. I say arguably because Bjergso's twin brother, Jeppe Jarnit-Bjergso, is also an internationally famous gypsy brewer. Based in Brooklyn, New York, Jeppe's company is called Evil Twin Brewing. Evil Twin was established in 2010. The name is a nod to the acrimonious relationship that exists between the two brothers. In March 2014 Jonah Wiener of the New York Times penned a fascinating piece on the evolution of this relationship. It makes compelling reading (you can read it here). Long story short – Mikkel started Mikkeller in 2006; a year prior to that Jeppe had opened a beer store in Copenhagen called Olbutikken. The relationship between Mikkeller and Olbutikken was symbiotic. Olbutikken showcased Mikkeller beers and Mikkeller beers drew customers to Olbutikken. In 2010 Mikkel opened a Mikkeller bar in close proximity to Olbutikken. Jeppe viewed the bar as competing with his store, and from that point forward the relationship started to go south.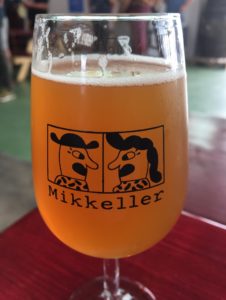 I visited Mikkeller along with other delegates from the Beeronomics conference. The Mikkeller facility that we visited was Mikkeller Baghaven. This venue serves multiple functions. First, it is Mikeller's barrel-aging facility.  Mikkeller sends beers that are brewed at various locations around the world to Baghaven to be barrel-aged. Second, it is a venue that can be rented for a variety of events such as weddings and parties. Third, it is a taproom where you can enjoy some great Mikkeller beers.  When we arrived at Mikkeler we were greeted by Jacob Gram Alsing, Operations Manager at Mikkeller. Jacob spent about thirty minutes with us, telling us about Mikkeller and answering questions. One of the most fascinating facts, that Alsing provided us with, is that Mikkel has a recipe book that contains somewhere in the region of a thousand different recipes for beer. I find that to be quite mind boggling. Mikkeller beer itself is brewed in four different countries – Belgium, Norway, Italy, and the United States. Technically, Mikkeller is no longer a pure Gypsy brewer. In addition to the brewpub that Mikkeller owns in Copenhagen with 3 Floyds, the brewer recently opened a brewery in San Diego, CA . The San Diego brewey is another joint venture – this time, with AleSmith Brewing Company. The San Diego Brewery allows Mikkeller, among other things, to get their more perishable brews such as IPAs to their customers in a condition of peak freshness.  And Mikkeller recently announced that they would be opening a brewery in a non-ticketed section of Citi Field, home of the New York Mets. Indeed, there appears to be a trend of gypsy brewers investing in brick and mortar breweries. There are a number of reasons for this, including a brewer being able to interact with his/her customers and this getting direct feedback on the beers they produce.
From a beer drinker's perspective Copenhagen turned out to be a more interesting city than I had anticipated. But, I suspect, thanks to the growth of the craft beer movement, that every city is more interesting than it was say twenty or even ten years ago. And for that, as someone who travels quite a bit I suppose I owe craft brewers a huge debt of gratitude. Craft breweries add local color and flavor to a city, while their beers reflect the creativity and craftsmanship of a local brewer. So to craft brewers everywhere I say Skål.