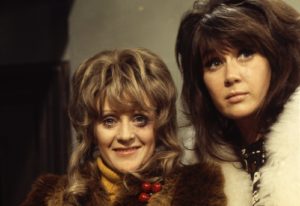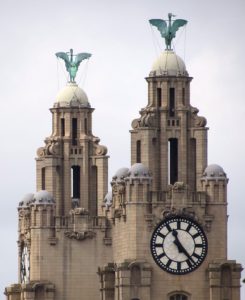 The British can take credit for the creation of some wonderful situation comedies. Growing up in Scotland during the 1970s and 1980s I was a regular viewer of a number of these. Some of my favorites included Only Fools and Horses, The Fall and Rise of Reginald Perrin, and Porridge. Recently I was reminded of another – The Liver Birds. The Liver Birds ran for ten seasons on BBC from 1969 and 1979. Set in Liverpool the storyline focused on the lives of two women (Sandra played by Nerys Hughes and Beryl played by Polly James) who shared an apartment. The title for the series was inspired by two sculptured birds that are perched on top of Liverpool's Royal Liver Building. The building, opened in 1911, was built to house the offices of the Royal Liver Assurance Group. The "bird" reference in the show's title, however, is also a nod to the British slang word "bird", which refers to a young woman. The American equivalent would be the word "chick".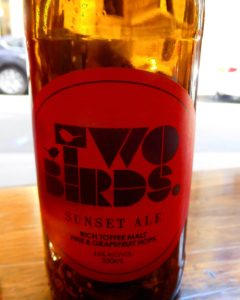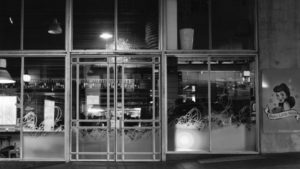 The show popped into my head, a few weeks ago, when I was in Melbourne, Australia. This was my fifth visit to Australia, but my first to Melbourne. I first visited Australia in 2006. While not much has changed since my first visit ten years ago one change that I have observed is the growing popularity of craft beer. Like Americans, increasing numbers of Australians, are demanding better quality and more flavorful beer than that which is offered by the large macro-brewers. I sampled quite a number of these Australian craft beers on my eight day trip there. One that I sampled was called Sunset Ale by Two Birds Brewing Company. It was recommended to by a bartender in Hairy Little Sista, a bar/restaurant in Melbourne's CBD. I was with a colleague and we went into the Sista to get a beer. It was my round so I went up to the bar to see what was on offer. The bartender saw me perusing the selection of beers on tap and before I could make a decision she said "You should try the Sunset Ale by Two Birds Brewery. The brewery is owned by two women, that's why it's called Two Birds, and they make some really good beer. It's brewed here in Melbourne". This particular bird, the bartender, had a sweet smile – I couldn't refuse her recommendation. And I was not disappointed. Sunset Ale is a tasty amber ale that comes in at an ABV of 4.6%. In fact I enjoyed it so much that I had another the next day in another bar; this time from a bottle.
The two birds behind Two Birds Brewing are Jayne Lewis and Danielle Allen. They both grew up in the city of Perth, in Western Australia and met there while teenagers. Throughout the course of their friendship they both developed a love and appreciation for  beer. Lewis eventually entered the brewing industry where she gained valuable experience working  for a number of Australian breweries, including as head brewer at Mountain Goat Brewery in Richmond, a Melbourne suburb. Allen, meanwhile, was putting her Marketing and Public Relations degree to work. Her passion was the food and beverage industry and she worked for a number of private sector firms following graduation. These included some time spent as Product Development Manager with the Australian retail giant, Woolworths, where she worked on the company's private label brand of food products, 'Select'.
In 2011 Lewis and Allen decided to enter the world of commercial brewing. At that point they were not ready to invest in a bricks-and-mortar brewery; instead they contracted with other  breweries to brew their beers. This allowed them to concentrate on other aspects of the business, including recipe development, establishing a distribution network, getting their brand known in the market, and also raising the financing to build an actual brewery. The latter they did in 2014 when they opened Two Birds Brewery in the Melbourne suburb of Spotswood. Within the Australian context Lewis and Allen are pioneers – they are the country's first female brewery owners. As part of the process of establishing their brewery the Two Birds made several pilgrimages to the United States, one in 2010 and one in 2013. They did so to immerse themselves in the American craft beer scene, to see what they could learn, and to draw inspiration – the fact that they made not one, but two visits to the United States is  a testimony to the cutting edge nature of the American craft beer industry.
Regular readers of this blog know that I have covered the topic of female Brewers in previous entries. In March 2016 I interviewed Shannon Fink, Head Brewer at the Black Cloister Brewing Company in Toledo, OH. In July 2016 I wrote an entry about female-owned High Heel Brewing of Lakeland, FL. Historically, before beer became an industrialized product, the role of brewer was a predominantly female one.
After I returned from Australia I came across an article about two women, Aida Musulmankulova and Arzu Kurbanova. Musulmankulova and Kurbanova are the owners of Save the Ales, the first craft brewery to be established in the central Asian country of Kyrgyzstan. The brewery is located in Bishkek, the country's capital city. Not only are the owners (who also happen to be the Brewers) female but they made the decision to hire an all-female staff.
While female brewers are still heavily outnumbered numerically by their male counterparts there is no question that the number of female brewers is on the rise. And here in the United States we have, I believe, reached the point where female brewers are no longer regarded as a curiosity or an oddity. And while there is still a ways to go female breweres are slowly, but surely, becoming mainstream. And that, surely, is a good thing.