Jackie Robinson is famous in the world of sport for being the first African-American, in the twentieth century, to play Major League baseball. Robinson's first professional game occurred on April 15, 1947 when he played first base for the Brooklyn Dodgers. The Dodgers were the only Major League team for whom Robinson played; his final game for them was on October 10, 1956. Among other achievements Robinson was named Major League Rookie of the Year in 1947, chosen as the National League MVP in 1949, and won the World Series with the Dodgers in 1955.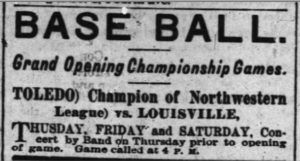 Robinson was not the first African-American to play Major League Baseball, however. On May 1, 1884, sixty-three years before Robinson played his first game for the Dodgers, a twenty-six year old African-American made his Major League debut. His name was Moses Fleetwood Walker and he turned out for the Toledo Blue Stockings in a game against the Louisville Eclipse. The game, in which Fleetwood played catcher, took place at Eclipse Park in Louisville, KY. ; the Eclipse won 5-1.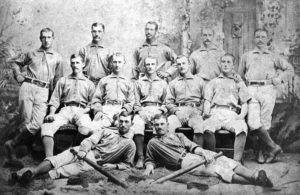 The Toledo Blue Stockings were established, as a minor league team, in 1883. That year they played in the Northwestern League, which they  also managed to win. In 1884 the Blue Stockings joined the American Association. The American Association was an alternative professional baseball league to the National League. The Blue Stockings lasted just one season in the Major Leagues (finishing eighth out of thirteen teams)  and in 1885 were back in the minors, before being disbanded at the end of that season. They played their games at League Park which was located on a city block in downtown Toledo; the block being bounded by Monroe Street, 15th Street, Jefferson Avenue, and 13th Street. This meant that League Park was located just a few blocks northwest of the Fifth Third Field, where the present-day Toledo MudHens currently play.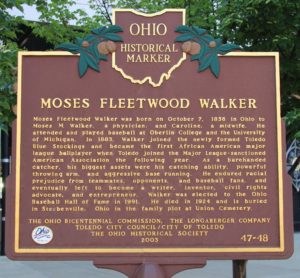 Walker was born in Mount Pleasant, OH on October 7, 1856. He was the third-born son of Moses W. Walker and Caroline O'Harra Walker. In 1879 the Walker family moved to Steubenville, OH and it was probably here that Moses first played baseball. In 1877 Moses enrolled as a student at Oberlin College (Oberlin, OH) where he played catcher and lead-off hitter for the Oberlin College prep team. In 1888 Oberlin fielded its first varsity baseball team, of which Walker was a member. In the final game of the season Oberlin defeated the Univetsity of Michigan, 9-2; so impressed were Michigan with Walker's performance that they invited him to join their team. So Walker transferred to the University of Michigan in 1882, where he spent his junior year studying Law and playing baseball. The  following year he decided to not return to Michigan, opting instead to sign for the Toledo Blue Stockings. And it was with the Blue Stockings that Walker made history when he became the first African-American to play Major League Baseball.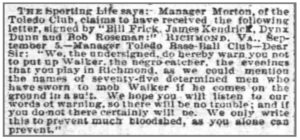 As an African-American it is perhaps not surprising to learn that, during his career, Walker faced opposition because of the color of his skin. There were a number of times when opposition players and managers objected to his playing against them. For example, on September 5, 1884 prior to a visit to Richmond, VA Charlie Morton, manager of the Toledo Blue Stockings, received a letter from the Richmond Virginians which contained the following:
Dear Sir: We the undersigned, do hereby warn you not to put up Walker, the Negro catcher, the evenings that you play in Richmond, as we could mention the names of 75 determined men who have sworn to mob Walker if he comes to the ground in a suit. We hope you will listen to our words of warning, so that there will be no trouble: but if you do not, there certainly will be. We only write this to prevent much blood shed, as you alone can prevent.
As it was Walker was released by the Blue Stockings prior to the trip to Richmond and so this particular situation never came to a head. After being released by Toledo, Walker bounced around from one minor league team to another before finally retiring from the game in 1889.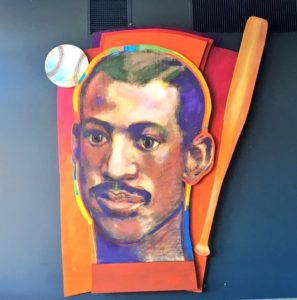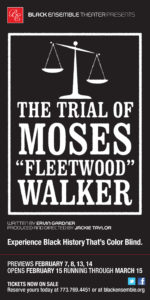 Although not from Toledo, it was in Toledo that Walker made history. And it is a history of which an growing number of Toledoeans are increasingly aware. And beer is playing a part in this increased awareness of Walker. In April 2016 a new bar opened in downtown Toledo. In honor of Walker, it is called Fleetwood's Tap Room. It is a bar with a craft beer focus and Fleetwood's menu includes over one hundred craft beers. One of these beers is called Moses' Acquital, a Brown Ale brewed exclusively for the tap room by the nearby Black Cloister Brewing Company. The brew is the creation of Black Cloister's Head Brewmaster Shannon Fink. The name of the beer refers to an event that has its beginnings in Syracuse, NY in April 1891. Walker was walking home from a bar when he was challenged by a group of white men. Words were exchanged, Walker drew a knife, and killed a man by the name of Patrick Murray. Walker was tried for second degree murder; the jury, which was all white, acquitted him; hence the name of the beer.  Interestingly, in 2015 a Chicago theatre, the Black Ensemble Theater, told the story of Walker's trial in a play. Titled The Trial of Moses "Fleetwood" Walker, the play was met with acclaim from a number of theatre critics, with one describing it as a "brave, honest, and powerful drama".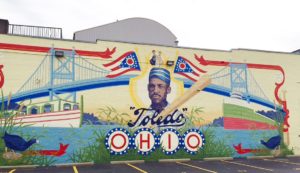 Inside Fleetwood's Taproom there is a painting of Walker that was done by local artist Richard Reed. The artwork in Fleetwoods is not the only image of Walker you will see in Toledo. There is a wall mural in downtown Toledo that bears his image. Completed  in October 2015, it is the work of artists Natalie Lanese and Douglas Kampfer and is called Island Sanctuary for the Ghost of Moses. The mural, at 19 St. Clair's Streer, is about a block from Fifth Third Field, home of the MudHens.  Walker is the central figure in the mural, which also includes other Toledo-related content such as the city's High Level Bridge and Mud Hens among the rushes.
In March of this year the Ohio House of Representatives voted 92-0 to designate October 7 (Walker's birthday) as 'Moses Fleetwood Walker Day' throughout the state of Ohio. It still has to be approved by the Senate and the Governor. But if it is, and hopefully it will, this will be a fitting tribute to a great Ohioan.
Further Reading:
Zang, David W. 1995. Fleet Walker's Divided Heart: The Life of Baseball's First Black Major Leaguer. Omaha, NE; University of Nebraska Press.
Acknowledgement: Thank you to my friend and colleague Peggy Gripshover of Western Kentucky University for providing me with old newspaper articles about Moses Fleetwood Walker.