A few weeks ago I visited a new brewery. Upside Brewing is, according to Google Maps, 9.4 miles from my house. The brewery is located in Sylvania, OH, a suburb of Toledo. Upside opened in September 2016. You'd think that The Beer Professor would know about the opening of a new brewery so close to his home but I did not know of its existence until about a month ago when I read this article in The Toledo Blade. Shame on me, but from what I can tell the brewery opened up without a great deal of fanfare. The Sylvania Advantage had ran a story back in May 2016 about the upcoming opening of the city's first brewery. But I do not read the suburban community's newspaper that comes out twice a month.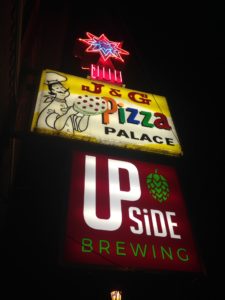 Upside Brewing is located inside J&G Pizza Palace on Sylvania's Main Street. J&G's has been part of the Sylvania landscape since 1971; its current owners, the Dallas family, took over the business in 1979. Along with my wife and two friends I visited J&Gs on a Saturday evening. The place was packed; we waited forty-five minutes for a table. Such waits, especially on a Saturday night, are not unusual apparently. Having been around for over thirty-five years this pizza joint has a loyal customer base; plus it has a relatively small seating capacity. As we stood at the front of the restaurant waiting for our table I watched pizzas being made; many of which were picked up by customers for home consumption – J&Gs was doing a brisk take-out trade.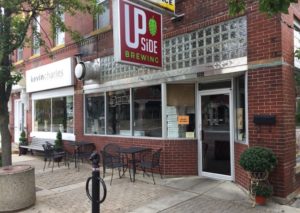 The evening we were there J&Gs had four of its own beers on draft – Palace Cream Ale, Division Street IPA, Ten Mile Amber Brown Ale, and Bavaricana Witbier. The also had one guest tap – Sunshine Daydream Session Ale from Fat Head's Brewery in Cleveland, OH. I opted for the Palace Cream Ale with my pizza. The beers are brewed onsite by Nick Dallas, son of owners Mark and Jill Dallas. Dallas  started homebrewing a little over five years ago and now uses a one-barrel brewing system to make J&G's beers.
Upside falls into the category of a nano brewery. There is no official definition of what constitutes a nano brewery although the generally accepted definition is a brewery that uses a three-barrel brewing system or smaller. Nano breweries produce small amounts of beer. For example, Vine Park Brewing Company in St. Paul, MN brew only six to eight gallons per month.
Nano breweries have a number of advantages over their larger peers. First, they are relatively inexpensive to start and operate. Start-up costs are generally somewhere in the five figures. According to Mark Garrison, a writer for Slate, nano breweries provide "an opportunity for skilled homebrewers to dip a toe into the commercial market, without having to find investors or take on crushing debt to secure the kind of funding required to start a microbrewery or brew pub." This is especially the case when the nano brewery is an add-on to an existing successful business, as is the case with Upside Brewing. If a nano brewery does have plans to grow, however, a couple of years as a successful nano brewery strengthens the position of the brewer when he or she goes seeking investment to expand.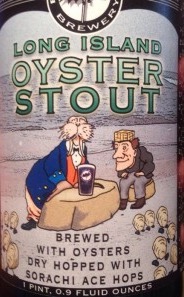 The small size of nano breweries affords brewers with a lot of latitude to experiment, which is good news for beer drinkers looking for new innovative brews. As noted by Derek Pettie, writing in Beer West, "nano breweries are able to experiment at will because of the low stakes and freedom to, well, brew whatever they want."  Paul Dlugokencky, owner of of Blind Bat Brewery in Long Island, NY stated "I brew what I'm interested in drinking, as well as what I think might be interesting to brew. At my size, I can afford to take a chance on what might be considered to be an odd or weird beer. Commercial appeal [hasn't] been a factor in anything I've brewed." A nano brewery allows brewers  to test the market for their beers, while developing a customer base. This reduces the risk should they decide to scale-up and invest in a larger brewing system. Nano breweries also tend to get to know their customers fairly well. According to Tony Ammendolia of Final Gravity Brewing Company in Richmond VA, "being as small as we are allows us to have face-to-face interaction with all of our customers, since the only place you can get our beer is in our tasting room." Indeed a couple of years as a successful nano brewery strengthens the position of the brewer when he or she goes to seek investment to expand.
Three different models of nano breweries have been identified:
1. Proof of concept. These are started by brewers who have plans for larger scale breweries. However, they refuse to or do not have the capital to invest in a larger brewery. They use the nano brewery to test the market for their beer. One example of such a brewery is 56 Brewing of Minneapolis, MN. They started out in a 700 square foot space in the northeast of the city in 2014. They very quickly outgrew this space and in 2016 vacated it to move to a larger facility. Starting out small, however, proved to be a smart business move according to 56's co-owner Kerry Johnson. Commenting about their growth strategy Johnson noted that "starting small and building our reputation is a huge asset." The space that 56 moved into in 2014 had previously been occupied by NorthGate Brewing who, in a similar fashion, vacated it when the space was no longer large enough. After 56 moved out another nano- brewery, Broken Clock Brewing, moved in and are now brewing there.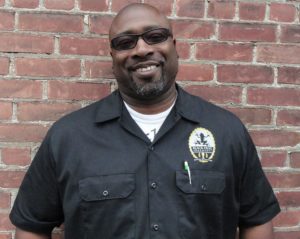 2. Second income. In these cases passionate homebrewers want the best of both worlds – to run a brewery while maintaining the security afforded them by their regular jobs. While keeping their day jobs these individuals brew in the evening or on their days off. The Black Frog Brewey in Toledo, OH is an example of such a brewery. Owner and brewer Chris Harris works full time as a claims representative for the Social Security Administration. His brew days are Wednesday and Sunday,  while the Black Frog taproom is open on a Friday and a Saturday.
3. Add-ons to existing restaurant pubs. Many restaurant owners recognize the value of brewing their own beer on-site and adding it to their menu. Lack of space means that a nano set-up is ideal. Upside Brewing is an example of this model. To some extent this is a low risk approach as the brewery is being added to what is hopefully an already successful business. There is a built-in potential customer base and, as long as there is space to add the brewing equipment there is no additional outlay needed to acquire space.
It was the Austrian economist Leopold Kohr who championed the idea that small is beautiful- if you want to see evidence of the efficacy of this idea look no further than your nearest nano-brewery.