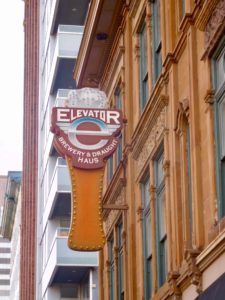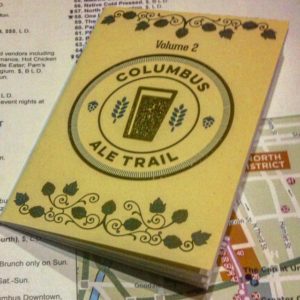 I was in Columbus, OH a few weeks ago. I was there for a couple of conferences – CEOs for Cities and Data Driven '16. While my days were spent listening to presentations my evenings were free. My colleague Margie, who arrived in Columbus before me, picked up a small booklet titled
Columbus Ale Trail. It is a pocket-sized, passport-type, booklet that contains information on the twenty-eight breweries that comprise the Columbus Ale Trail. The basic idea is that as you visit an establishment on the trail you get a stamp verifying your visit. Visit four establishments and you receive a complimentary ale trail beer glass (shaker style); visit all twenty-eight and you get a complimentary pack of ale trail playing cards. While most of the breweries on the trail are located in the city of Columbus there are a few that are to be found in outlying communities such as Westerville and Gahanna. In the three evenings that I was there I was able to visit six of the breweries – Barley's Brewing Company, Elevator Brewery Restaurant, Elevator Brewery Taproom, North High Brewing, Seventh Son Brewing Co., and Wolf's Ridge Brewing. This  qualified me for a complimentary shaker pint glass which I picked up at the Experience Columbus Visitor Center located inside the Greater Columbus Convention Center.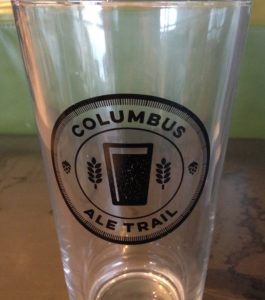 Columbus is not unique in having an ale trail; other cities have them. These include Fayetville, AR, Fort Worth, TX, and Jacksonville, FL. Most ale trails have common components – a website, a map, a passport, and rewards for reaching certain milestones. There are some places that have combined beer and wine trails; the West Michigan Wine and Beer Trail and The Mansfield and Richland County (OH) Wine and Ale Trail being two examples. Ale trails can be self-guided or they can be undertaken as part of an organized tour. Both have their merits and I have done them both ways. While in Columbus there were enough breweries within a short walking distance from each other that I was able to go the self-guided route. Earlier this year I was in Charlotte, NC and went on an organized tour of a handful of the city's breweries. This was ideal as the craft breweries in Charlotte were not within walking distance of each other.
So why do communities go to the trouble of developing ale trails? They do so because they recognize that beer tourism is a growing phenomenon.  To quote the website of the Michigan Brewers Guild, "Tourism is big business in Michigan – and travel focused on the craft brewing industry is a hot ticket". It is not just a hot ticket in Michigan. Beer related tourism is booming across the entire United States. A 2014 survey by MMGY Global, for example, provided some insights into craft brewery tourists who visited Portland, OR tourism industry. During the two years prior to the survey one in ten Americans had visited Portland. Of those visitors forty-five percent indicated that they had visited a microbrewery, forty percent took a brewery tour, thirty-five percent attended a craft beer making class, and thirty-four percent attended a craft beer tasting event or festival. A 2015 study examining the economic impact of beer tourism in Kent County, MI estimated that during the previous year the county received nearly 43,000 beer tourists, who each stayed an average of  2.27 days during which time they visited an average of 3.7 breweries. The total spending of these beer tourists was estimated to be in excess of $7 million. This includes money spent on beer, lodging, food, retail, transportation, and entertainment. Kent County is home to a number of well known breweries including Founders Brewing Co. in Grand Rapids.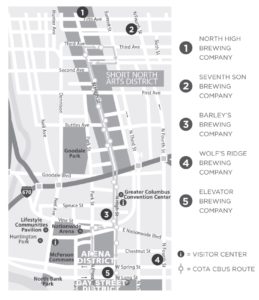 All of the breweries I visited in Columbus (except the Elevator Brewery and Taproom) are located on what the Ale Trail website refers to as Brewer's Row. Brewers Row, which is focused on North High and North 4th Streets is a little more than a mile in length from north to south and is runs about three blocks in an east-west direction. Having a concentration of breweries in a relatively small geographic area is beneficial to beer tourists like myself as it makes it possible to walk between all the breweries within the time-frame of an evening or two (if like me you prefer a more leisurely pace).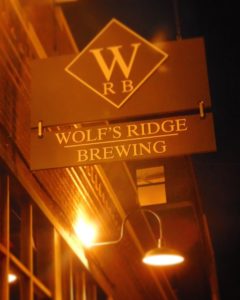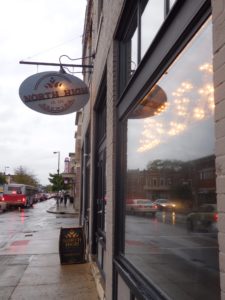 Recently I have been looking at the issue of the geographic clustering of craft breweries in ten cities across the United States. This is research being conducted with two colleagues – Isabelle Nilsson who is on the faculty at the at the University of North Carolina, Charlotte and Matt Lehnert, a doctoral student at the University of Toledo. One of the arguments that we use in support of the idea that craft breweries should cluster together in close proximity to each other is that doing so facilitates the practice of brewery-hopping (the same as bar hopping except you are hopping between craft breweries). As I was doing some background reading for this research project I came across a paper that had been written by a group of students as part of a class assignment for a course in Marketing at Northern Colorado University. It caught my eye because the students, based on interviews, had developed a typology of craft beer drinkers. Their typology comprised four types  – novice, loyalist, enthusiast, and explorer. By far, the greatest number of craft beer drinkers are either enthusiasts or explorers. What differentiates these two groups of drinkers is that the former has a strong appreciation for the brewing process and is interested in the history of the industry, while the latter have little interest in such things. However, it is what these two groups have in common that is of interest to us here. Both groups enjoy visiting craft breweries and make an effort to visit as many as possible. They also like to try beers that they have not tasted before. Clearly, visiting different craft breweries is easier when they are geographically concentrated in space. In our research on craft brewery clustering we used a measure called Ripley's K (sorry to get technical for a second) to assess whether craft in the cities of Austin, TX, Charlotte, NC, Chicago, IL, Denver, CO, Minneapolis, MN, New your City, NY, Portland, OR, San Diego, CA, San Francisco, CA, and Seattle, WI. With the exception of Austin, TX we found evidence of the geographic clustering of craft breweries in all of the cities.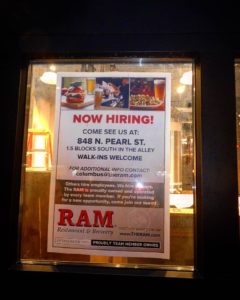 This clustering of craft breweries will become more pronounced as more breweries open up. While walking between breweries in Columbus I happened upon a brewery under construction – the RAM Restaurant and Brewery is scheduled to open on October 31, 2016. More breweries, of course, are good news for beer tourists, particularly those who are enthusiasts and explorers. It will make it more convenient to travel between breweries and sample the fine beer that so many are producing.