I was in Texas last month. I went there for the U.S. Formula 1 Grand Prix. This was my fourth time in Austin since 2010, each time to attend the U.S. F1 GP at Circuit of the Americas, a race track custom-built for the event. This year, as last year, I flew into Dallas. My friend Mike lives in Dallas. I spent the day with Mike, stayed overnight at his place, and he and I drove the four hours to Austin the next day. In Austin, we stayed with another friend, Bill. The U.S. GP is a three-day affair, starting with practice on the Thursday and culminating with the race on Sunday afternoon. I have been a follower of Formula 1 since I was a child, growing up in Scotland. My all time heros in the sport are, not surprisingly, two Scots, Jackie Stewart and Jim Clark. Stewart (now Sir Jackie Stewart) won three F1 World Championships – 1969, 1971, and 1973.  Clark won two – 1963 (the year I was born) and 1965. Stewart continues to be involved in the sport today, while Clark was tragically killed while driving in a Formula 2 race in Hockenheim, West Germany in 1968, at the age of thirty-two. Clark, no doubt, would have won more F1 world championships, had his life not been cut short at such a young age.
I always enjoy a beer or two while attending sporting events and a Formula 1 Grand Prix is no exception. When I attend any sporting event, I expect to find beer brewed by large multinational brewers. Indeed, the beer on sale at the Circuit of the Americas was dominated by beer brewed by AB InBev and Heineken. So lots of Budweiser, Bud Light, and Heineken was available for purchase. For race fans looking for a craft beer, the choice was also limited to beer brewed by breweries that at one time were independently-owned craft breweries, but had since been purchased by the aforementioned AB InBev. These included Goose Island IPA, Goose Island Pale Ale, Blue Point IPA, Blue Point American Amber, Karbach Pale Ale, Karbach Kolsch, Karbach Texas IPA, and  Karbach Wheat.

Since 2011, AB InBev have purchased ten craft breweries in the United States. These are:
Goose Island Beer Company, Chicago, IL (purchased 2011)
10 Barrel Brewing, Bend, OR (purchased 2014)
Blue Point Brewing, Patchogue, NY (purchased 2014)
Breckenridge Brewery, Littleton, CO (purchased 2015)
Elysian Brewing, Seattle, WA (purchased 2015)
Four Peaks Brewing, Tempe, AZ(purchased 2015)
Golden Road Brewing, Los Angeles, CA (purchased 2015)
Devil's Backbone Brewing, Roseland, VA (purchased 2016)
Karbach Brewing Company, Houston, VA (purchased 2016)
Wicked Weed Brewing, Asheville, NC (purchased 2017)
The reasons why AB InBev and other large multinational brewing giants are purchasing craft breweries are well documented. The US is a mature beer market. American beer consumption is declining.  In 2015, Americans of legal drinking age (LDA) consumed 27.4 gallons of beer per capita. This was down from 29.1 gallons in 2010. In this mature market, the only growing segments are craft beer and imported beer. Craft beer sales in the United States grew by 6.2% in 2016, while sales of imported beer grew 6.8%. Meanwhile, sales of beers such as Budweiser and Bud Light continued their downward spiral.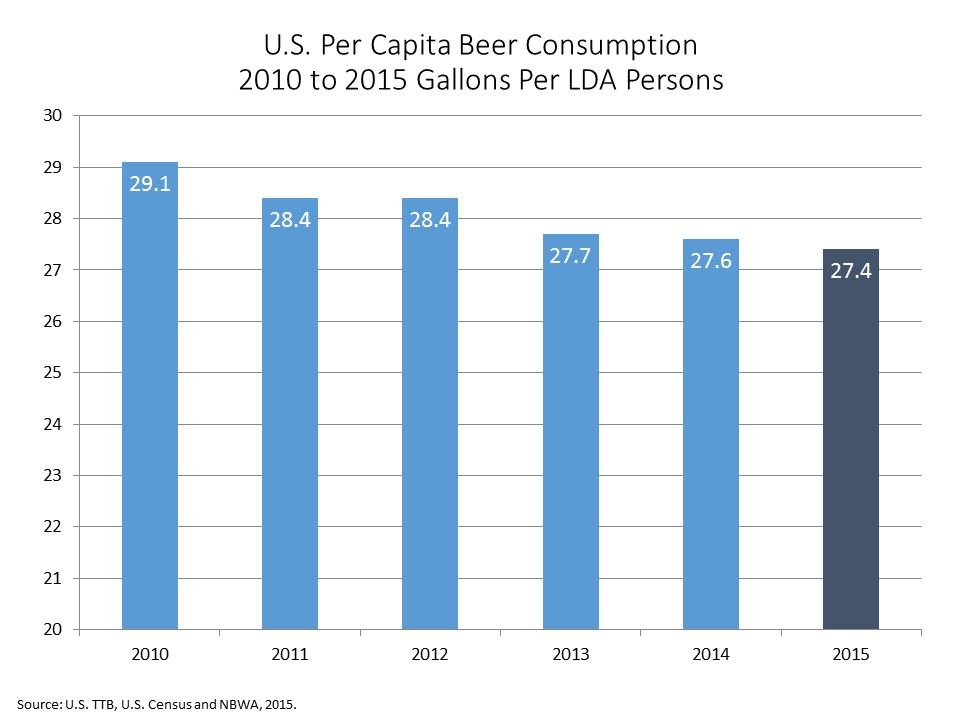 In order to capitalize on the growing popularity of craft beer, multinational firms like AB InBev purchase craft breweries. Many beer drinkers, including some craft beer drinkers, are not aware that, when they purchase a Karbach Pale Ale, they are purchasing a beer produced by a brewery that is owned by AB InBev. If truth be told, many of those people probably do not care. Some do care, however. I remember being in Seattle, WA shortly after AB InBev had purchased the city's Elysian Brewing. I was in a bar (it happened to be early morning, but that's another story) and got into conversation with the bartender. The conversation turned to Elysian. I asked the bartender what she thought of the takeover. "Look around you", he said. "Do you see any Elysian products?" I did not. Shortly after the takeover, the bar stopped selling Elysian beer.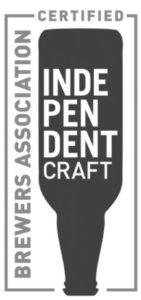 For the craft beer consumer who wants to avoid beer brewed in a former craft brewery that is now owned by a multinational like AB InBev or Heineken, it can be quite a task remembering who owns what. Enter the Brewers Association (BA), stage left. In June 2017, the BA introduced the Independent Craft Brewer Seal. The seal, comprising an upside down beer bottle, with the words "Certified Independent Craft", can be used on the packaging, marketing materials, websites, tap handles, menus etc. of breweries that qualify as craft, as defined by the Brewers Association. In response to the release of the seal, AB InBev produced a YouTube video in which six of their craft brewers (Elysian, Devil's Backbone, Breckinridge etc.) articulated their response. In many respects, it is a fascinating video, particularly because it very clearly shows how breweries now owned by AB InBev characterize the challenges facing the industry. They view the Independent Craft Brewer Seal as fueling the flames of a civil war within the beer industry; a war which pits craft breweries against non-craft breweries. The real enemy, according to them, is not AB InBev; the real enemy is wine and spirits, who are taking a growing share of the alcohol market. They have a point. Research by Gallup shows that in 1992, of Americans who drank alcohol, forty-seven percent preferred beer, while forty-eight percent preferred wine and liquor. By 2017, the percentage preferring beer had fallen to forty percent, while the percentage preferring wine and liquor had increased to fifty percent. Several of the individuals in the video talk about the importance of the consumer, and allowing the consumer to make choices that reflect their preferences. Garret Wales of 10 Barrel goes so far as to argue that the Independent Craft Brewer Seal is in some way usurping the independence of the consumer. Wales implies that,  in creating the seal, The Brewers Association is engaging in some kind of mind control exercise in which they are making up the consumers' mind for them. What nonsense. The seal is simply a way that consumers can quickly identify beers brewed by independent craft breweries. In the modern world, consumers can sometimes be overwhelmed with information. In this particular case, I believe that this additional piece of information is both warranted and useful.
As a final comment, while I was viewing this video, I could not help but think that the representatives of Elysian, Wicked Weed, 10 Barrel etc. would be singing a quite different tune had they not been purchased by AB InBev.