A few weeks ago, on April 1 to be exact,  my wife sent me a YouTube video via Facebook messenger. It was a video about a new brewing initiative that was in the process of being launched in the northwest Ohio area -Lime City Brewing. The video (which can be viewed here) is just over three minutes long. It was produced by Cedar Creek Church. Cedar Creek is a large non-denominational church which has five campuses throughout  northwest Ohio. According to the video Cedar Creek was getting into the craft beer brewing business.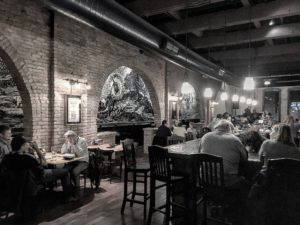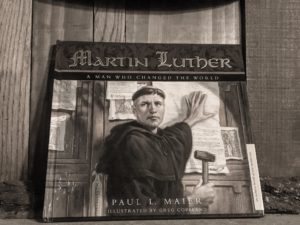 The video caught me by surprise. I had not read anything in local media about Cedar Creek brewing beer. There had been no mention of it on social media. None of my craft beer friends had said anything to me about it. So as I watched the video I found myself trying to process and make sense of what I was hearing and seeing. There were parts of the video that seemed to add up (yes this looks real) and parts of it that had me scratching my head. The video opened with a representative of the church introducing the audience to Lime City Brewing. As he did so I quickly recognized where the filming had taken place; Black Cloister Brewing Company in downtown Toledo – the huge black and white wall mural was unmistakable. Why had they filmed the video here? Was their brewery still under construction? After watching the video a second time I realized that there was never any actual reference to a physical brewery – this was a "brewing initiative". The thought then quickly passed through my mind that perhaps Lime City were contracting with Black Cloister to brew their beer for them. Knowing what I knew about the brewing set-up at the Black Cloister this did not make sense to me so I dismissed that possibility. The tag line associated with the new brewing initiative was introduced as  "Brew Well Do Well". This seemed like an appropriate tag line for a church-sponsored brewery. Yet it sounded familiar. Then it struck me that it was very similar to Black Cloister's tag line – "Brew Good, Do Good". The presenter then noted that there is a long history of brewing being associated with the Christian faith. He mentions Martin Luther and the tradition of beer being brewed in monasteries. This was correct. It is well documented that Martin Luther enjoyed a few pints, while his wife Katie brewed beer for the household. And there is a tradition of European monasteries brewing beer since the Middle Ages. Today some of the best beers in the world are brewed by or under the supervision of Trappist monks. The video then cuts away to the brewmaster who runs through Lime City's portfolio of beers – Perrysburg Porter, Findlay IPA, South Toledo Stout, West Toledo Weiss, and Whitehouse Wheat. The brewmaster looked the part, complete with beard and a Lime City Brew t-shirt. At various points during the video you see bottles of Lime City's brews. I am not sure what is inside the bottles but each one has a very authentic looking label. I must admit the labels impressed me – they were, in my opinion, both attractive and well-designed. The video finishes with the individual who introduced the new brewing initiative standing behind the bar at the Black Cloister. He has six packs of the five Lime City beers in front him. He tells the audience that supplies of the intitial batch of Lime City beer is limited, but that an order can be placed at livingitstout.tv. So I went to the website and scrolled down until I found the "Buy Now" icon. I clicked on it, not sure what to expect next. This took me to a YouTube video in which Ben Snyder (lead Pastor at Cedar Creek Church) informed viewers that the church was in fact not brewing beer and that it was all an April Fools prank. In producing the video he hoped that it would "create conversation about Church". He then spent the next minute or so inviting viewers to worship at Cedar Creek while also noting that a lot of time, energy, and talent went into the making of the video I had just watched.
The video caused quite a firestorm on social media across northwest Ohio. Quite a few people were upset and/or offended by it. This included both those who worship at Cedar Creek and those who do not. Cedar Creek's Facebook page was inundated with comments about the video. A number of my own Facebook friends posted their own thoughts on their own personal Facebook pages, with each of these postings generating a number of comments. Some of the opinions expressed were knee-jerk, while others were carefully thought out and very well articulated. Some  people were upset that their church produced a video about alcohol, seeing it as condoning its consumption. They were particularly upset about the timing of the video; just a few days before its release a drunk driver had caused the death of three area residents. Others were upset at the Black Cloister Brewing Company for allowing Cedar Creek to film the video at their brewery, thereby being complicit in the prank. I have my own personal opinion and perspective about both the video and the resultant backlash against it. But I am going to keep those to myself. This is a blog about beer. It is not a blog about theology or religion.
So let's turn to the beer aspect of this. In this regard I want to make a couple of points. First, it is not out of the realms of possibility that a church might consider getting into the brewing business. In fact, go to Orlando, FL and you will find Castle Church; a Lutheran church that owns and operates its own brewery. The brewery cleverly leverages its Lutheran connection – among the beers brewed at Castle Church Brewing you will find  Katie's Kölsch (named after Martin Luther's wife), Mighty Fortress Doppelbock ("A Mighty Fortress Is Our God" is one of the best known hymns written by the Luther) and Indulgences IPA (Luther was against the selling of indulgences by the Catholic Church). Now I really do not know enough about Cedar Creek to say whether they would pursue such a venture. But if they did, they would not be the first. And as noted in their video, beer and Christianity have a long relationship  dating back to medieval times when European monasteries brewed beer. The monks would drink beer during the Lenten period as a source of sustenance. Tom Schaeffer, the CEO and co-founder of the Black Cloister Brewing Company, where the video was filmed, is an ordained Lutheran pastor.  The congregation at his church, Threshold, supported his decision to establish Black Cloister. Last year I attended Threshold's Easter worship service which was held in the Black Cloister's tap room.
Second, the fact that Cedar Creek opted to pretend that they were going to brew beer is informative of the status of the craft brewing industry in the United States. Craft beer has arrived, it is here to stay, and increasing numbers of people (even those who do not drink craft beer) are aware of its existence. It is not a passing fad and indeed one may even argue the case that it is now part of mainstream American culture. I suspect that the folks at Cedar Creek were clearly aware of craft beer's rising star when they brewed  up their April Fools prank. This is not a video that would have been produced twenty years ago.
Third, I was intrigued, and frankly impressed, by the lengths to which Cedar Creek had went to pull off their prank. The name, Lime City Brewing was appropriate. The original Cedar Creek campus is located on Lime City Road in the suburban community of Perrysburg, OH. But it was the bottles and labels that really impressed me. It was clear that a great deal of thought had went into designing and producing what, to all intents and purposes, were authentic-looking beer labels. Not only that, but considerable thought had also went into the naming of their five beers. All five beer names – Perrysburg Porter, Findlay IPA, South Toledo Stout, West Toledo Weiss, and Whitehouse Wheat – were named after the five locations in northwest Ohio (Perrysburg, Findlay, South Toledo, West Toledo, and Whitehouse) where Cedar Creek have campuses. Naming beer after local places, people, and historical events is not uncommon in the craft beer industry. Indeed, in collaboration with two colleagues (Peggy Gripshover of Western Kentucky University and Tom Bell of the University of Tennessee) I am currently working on a project examining the names that Ohio breweries give to their beers. We are particularly interested in those beers that are named after Ohio places, people, and events. To date we have identified over one hundred and sixty such beers in Ohio. Naming beers in this fashion is tied to with the broader neolocalism movement, by which the names given to beer (and other products) are one of the numerous ways in which beer both reflects and promotes its localness.
So at the end of the day I am not sure to what extent Cedar Creek Church achieved their intended objective ("create conversation about Church") with their April Fools prank. They certainly attracted a lot of attention and generated a lot of chatter on social media. Much of the response that they received was negative. I suspect that Cedar Creek, in making the videos, knew that this might be the case. As I read much of the critique of the video I was reminded of Oscar Wilde's Lord Henry, who said in The Picture of Dorian Gray, "there is only one thing in the world worse than being talked about, and that is not being talked about."