My wife and I met some friends for dinner a few weeks ago. We went to a Mexican restaurant, Cocina de Carlos, that neither my wife or I had tried before. It was an excellent choice – the food was freshly-made, helpings were generous,  and the service was both friendly and attentive. The owner and chef Carlos Mendez is from Jalisco in Mexico which, in my opinion, added some authenticity to our dining experience. In addition to excellent food Cocina de Carlos also had a nice offering of five beers from a brewery whose beers I had never tried before – 5 Rabbit Brewery in Bedford Park, IL. 5 Rabbit describes itself as "the first US based Latin American-inspired brewery" who "hope to bring the energy, passion and amazing richness of Latin culture and cuisine to the delicious world of craft beer." So with dinner I enjoyed two of 5 Rabbit's brews – their Gringolandia Super Pils and their 5 Lizards Cerverceria (a Witbier)
After dinner we popped into the Kroger supermarket that was just across the parking lot from the restaurant. While we needed a few grocery items, the real motivation for our visit was to check out the in-store bar. The store is a Kroger Marketplace – a concept that the Cincinnati-based retailer introduced in 2004. In addition to the standard groceries, a Kroger Marketplace (which is typically ~125,000 square feet in size) offers a whole host of other goods such as clothing and housewares. Add to that a Starbucks, a bank, a medical clinic staffed by a nurse practitioner, plus other services and you have a true one-stop shopping venue. And don't forget the bar.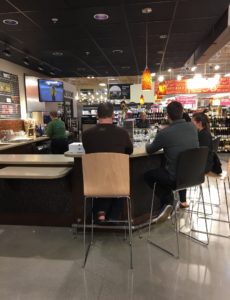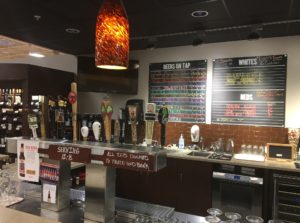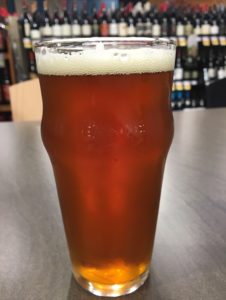 So after putting a few items in our grocery cart we headed off in search of the bar. We found it quickly. I was impressed. There were seats at the bar for around ten people and a couple of tables away from the bar each of which could sit six to eight people. The bar sold both beer and wine, with samplers of both available for purchase. There was an impressive portfolio of a dozen craft beers on tap. I opted for Rounding Third Red IPA from Cincinnati's MadTree Brewing Company while my wife had a glass of red wine. As we waited to place our order at the bar an older getleman, sitting on one of the bar stools, engaged us in conversation. As he rattled off the day's of the week and times of the day when the bar was busy and when it was quiet it quickly became apparent that he was a regular. I never thought of a bar in a grocery store being my regular watering hole, but I could see how that might work for some folks. After getting our beer and wine my wife and I sat and enjoyed our drinks. And as we did so I thought about how pleasant it would be to have a beer once or twice a week at the grocery store. This particular Kroger is some distance from our house, while the Kroger nearest our house has no bar; the good news, however, is that the Toledo City Council recently provided the necessary approval for a new Kroger Marketplace store to be built to replace our currently bar-less Kroger – fingers crossed that it will have a bar.
Kroger is not the only grocery retailer to have an in-store bar. Whole Foods stores across the country have in-store bars whose offerings include craft beer. Lowes Foods, a grocery store chain with  a hundred or so stores in South Carolina, North Carolina, and Virginia,  have an in-store Beer Den where shoppers can sample a beer or pick up a pint, which they can enjoy while picking out their weekly groceries.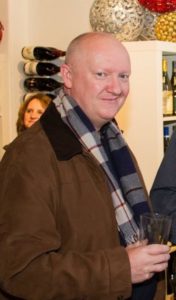 And grocery stores are not the only non-traditional venues now serving craft beer. A growing trend around the country is the availability of beer on tap in bicycle shops. Watts Dixon has ten beer taps in his bike shop,  Revolution Cycles, in Greensboro, NC. According to Watts one strategy to counteract the growing preference for internet shopping is to offer consumers what he calls "experience-based retail". According to Maria Sicola, a San Francisco-based real estate research consultant, while most "stuff"can be purchased online, people will still go to brick-and-mortar locations to have "experiences". Being able to sit and have a beer while getting advice on different frame bags for your bicycle is a lot more fun than browsing Amazon and adding an item to your shopping cart. In Toledo, OH, where I live, there is a home accessories store called the Paula Brown Shop which has an in-store pub called, appropriately, The Pub. At any given time it has a selection of six rotating craft beers on draft. So celebrate the purchase of your Simon Pearce Woodbury Vase with an Alaskan Hopthermia Double IPA at the bar.
Hair salons are another place where craft beer is becoming available. In California, for example, barber shops and beauty shops can serve complimentary beer and wine to their customers. According to the owner of Fine Men's Salon in San Rafael, CA serving beer "is part of our business model" and is designed "to improve the atmosphere and make the customer feel a little special." At Salon Saloon in Traverse City, MI customers can enjoy a beer while getting a haircut. As the salon's tag line says "you sip, we snip". The beer comes from Right Brain Brewery, which shares a space with the salon. As if that is not enough, the stylists at Salon Saloon have been chosen for "their intelligence, skill, and ninja-like reflexes."
The availability of craft beer in these non-traditional outlets bodes well for the craft beer industry. The more venues that offer craft beer the greater the likelihood that people will buy it. In a world where craft beer is battling for precious shelf-space in grocery stores that is a good thing. And to that I say "Cheers".