A few weeks ago I received an e-mail from Will Gordon, a writer for Men's Journal. He had a very simple question – why did the state of Vermont have the largest number of craft breweries per capita? According to data provided by the Brewers Association The Green Mountain State has 10.8 breweries per 100,000 residents – more than any other state in the country. Will was writing an article about Vermont's craft brewing industry, and wanted an answer to this question. In his e-mail, Will asked if I had time to chat with him on this topic. I responded that I would, and we agreed to chat the next day. This gave me less than twenty-four hours to come up with an answer to Will's question. I had some hypotheses, of course, but some research would be required to verify (or refute) those.
My first thought was that perhaps Vermont has a large millennial population. There is a considerable body of research suggesting that the popularity of craft  beer is driven primarily by the millennial demographic.  While there is no universal agreement on what constitutes a millennial, the Pew Research Center defines this cohort as comprising individuals born after 1980. According to the website overflow.solutions, 25.9% of Vermont's population are millennials. This places Vermont forty-fifth out of fifty states – not a particularly high rank;  suggesting that Vermont's love of craft beer may not be driven by this particular cohort.
After refuting the millennial hypothesis, I decided to look at per capita beer consumption in Vermont. How did the state measure up on that particular measure? According to an article in the 24/7Wall Street, Vermonters (aged twenty-one and over) drink an average of 35.7 gallons of beer per capita. This places them fifth in the country. When it comes craft beer, Vermont ranks even higher. The 19.5 gallons per capita that its drinking age population consumes makes Vermont number one in the country. So Vermonters drink more craft beer per capita than the residents of any other state – this may go a long way to explaining why is has so many craft breweries.
My next line of thinking led me to examine the concept of neolocalism – the preference of some Americans to consume food (and perhaps beer) that is produced locally. Some scholars, such as the geographer Wes Flack, have suggested that part of the reason for the popularity of craft beer is this demand for locally-grown and locally-manufactured products. We see evidence of this demand in the increasing number of wineries and farmers markets across the country. The number of wineries in the United States increased from 1,755 in 1996 to 11,496 in 2016. Between 1994 and 2014, the number of farmers markets increased from 1,755 to 8,268.
But what about Vermonters? How does their demand for locally-produced products compare with other states? One way to measure such demand is to look at things such as the number of farmers markets and CSAs (Community Supported Agriculture) in a state. With its ninety-six farmers markets and 149 CSAs (Community Supported Agriculture) Vermont, on a per capita basis, ranks number one in the country. On a per capita basis, it also has more hospitals that are pledged to purchasing local food than any other state. Indeed, on seven variables that measure a state's commitment to purchasing and eating locally-produced food, Vermont ranks first on six of them. So it seems that the neolocalism movement is alive and well in Vermont. Vermonters, more than the residents of any other state, love to purchase locally-grown food. If they feel that way about purchasing local food, I would argue that there is a pretty good chance that they may feel the same way about purchasing locally brewed beer. This commitment to purchasing local products, along with Vermonters love of beer (and craft beer in particular), is the key driver behind the state having the highest number of craft breweries per capita.
There is one more piece of the puzzle, however, and that relates to the quality of the beer being produced by Vermont's breweries. In general, craft beer drinkers tend to have high standards when it comes to beer quality. Breweries producing a sub-standard product are unlikely to survive in the market place. When it comes to having access to high quality beer, Vermonters have nothing to worry about. According to the beer rating site, RateBeer.com, ten of the one hundred top-rated beers in the world in 2016 were brewed by two Vermont breweries – The Alchemist and Hill Farmstead Brewery. Only Massachusetts and the country of Belgium, each with fourteen brews, have more beers in the top one hundred. Moreover, in the same year, Hill Farmstead Brewery was rated as one of the top ten of breweries worldwide. Since 1983, nine different Vermont breweries have won medals at the annual Great American Beer Festival. All of this suggests that Vermont breweries are producing beer that is of very high quality, both in the eyes of the craft beer drinker and expert judges. Vermonters, it would appear, have access to some world-class, locally-brewed, beer. Vermont breweries also have a reputation for innovation and creativity. They are, for example, credited with developing a new style of beer – the New England IPA.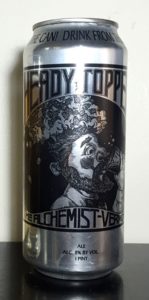 A couple of Vermont breweries, and the beers they brew have something akin to a cult following in the world of craft beer. For example, Heady Topper is a Double IPA (8% ABV) brewed by The Alchemist at their brewery in Waterbury, VT. Distribution of Heady Topper is limited to a twenty-five mile radius of the brewery. The Alchemist have a second brewery, eleven miles up the road in Stowe, VT. As the Waterbury brewery is not open to the public, Heady Topper is available for purchase at the brewery in Stowe. Visit the brewery in Stowe, however, and you will (along with everyone else) be limited to purchasing no more than two four-packs of Heady Topper per day. There are a small number of retail outlets in the immediate area, where Heady Topper can be purchased. But such is the limited supply of this much sought-after brew, most outlets only have it available for sale on one day of the week. So, for example, if you go to Alpine Mart in Stowe make sure it is a Monday, as that is the only day they have Heady Topper in stock. If they happen to be sold out when you get there, you can always wait until Tuesday and go to Bessary's Quality Market in Burlington, VT to get some. Even those stores that receive shipments of Heady Topper often sell out within an hour. This means that to get your hands on some Heady Topper, you can expect to stand in line for an hour or so before the store has opened. And when you do so, there's a decent chance that the person standing next to you has driven a couple of hours for the privilege of doing so. Heady Topper is not one of those seasonal or limited-release beers; it is brewed year-round, but there is simply not enough produced to keep up with demand. As for me, I have tasted Heady Topper once in my life; this past February in Santa Fe, NM of all places. I was in Santa Fe for a conference and my colleague Rachel Franklin, who teaches at Brown University in Providence,  RI was nice enough to put a can in her suitcase for me.
And so, I raise my glass to all those Vermonters who eat locally-grown food and drink locally-brewed beer. Their support of and commitment to their local food system is to be admired and commended. And to them I say Cheers.
Additional Reading:
Flack, Wes. 1997. American Microbreweries and Neolocalism: "Ale-ing" for a Sense of Place. Journal of Cultural Geography, Volume 16, Issue 2, Pages 37-53.