I was in Italy a few weeks ago. As with many of my trips these days, I went there to talk about beer. My first talk was to doctoral students in the Urban Studies and Regional Science program at the Gran Sasso Science Institute in L'Aquila. The seminar I taught provided a broad overview of the growth of craft beer in the United States, followed by an assessment of the industry's potential to contribute to a city's economic development efforts at the neighborhood scale. L'Aquila is a city of ~70,000 inhabitants, east of Rome. To reach L'Aquila, I caught a bus from Rome's Fiumicinio Airport. The journey takes about about an hour and forty-five minutes. L'Aquila is an interesting city. In 2009, it was struck by an earthquake that killed 308 people. Eight years later, evidence of the devastating earthquake can still be seen. Construction crews, scaffolding, and cranes are a common sight. The city center, where the earthquake did the greatest damage, has something of a surreal feeling to it – buildings everywhere in the process of being repaired in the hope that they can recapture their former glory. I was in Christchurch, New Zealand in 2014. In 2011, that city had also experienced a major earthquauke. The Christchurch earthquake took eighty-five lives. Comparing the two, the damage in L'Aquila seemed considerably more extensive.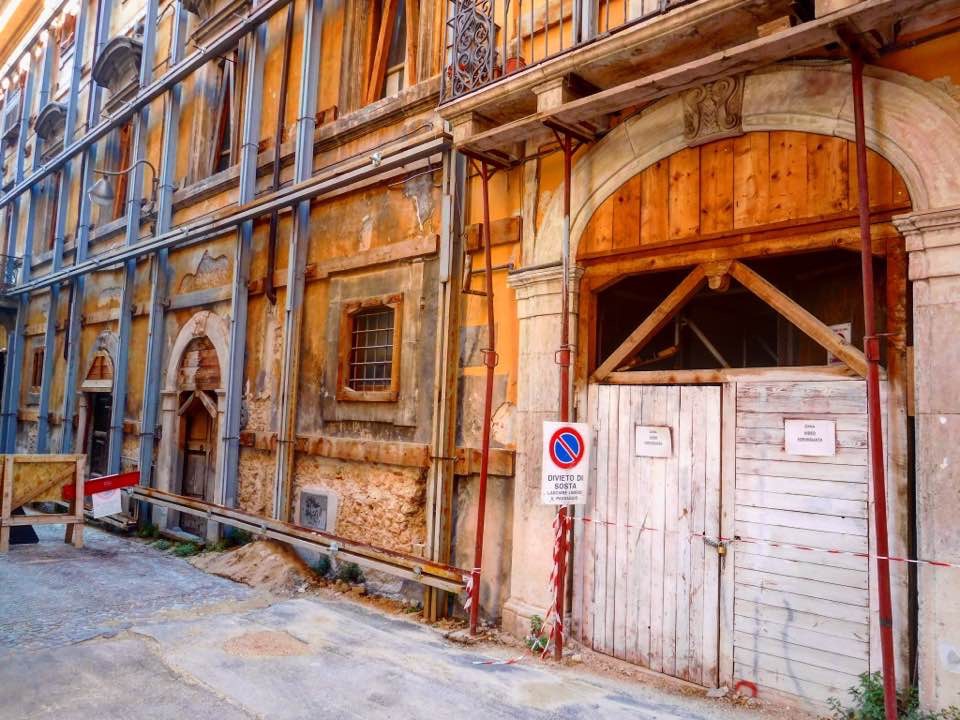 I spent two nights in L'Aquila before bussing it back to Rome and catching a flight to Cagliari on the island of Sardinia.  Cagliari is about twice the size of L'Aquila. It has ~150,000 inhabitants. When taking into account it adjacent municipalities, however, the population of Cagliar's larger metropolitan area exceeds 430,000. Cagliari has a completely different feel than L'Aquila. It has more energy and vibrancy, and of course has not been the victim of any earthquakes in recent times. I was in Cagliari to attend the annual conference of the Italian Regional Science Association, and to present a paper on the potential of craft breweries to boost tourism in geographically and economically peripheral areas. After three nights in Cagliari, it was back to Rome, where I had day of sightseeing. After Rome, it was off to Warsaw to kick-off the start of a week-long visit to Poland.
This was my third visit to Italy. Previously, I had spent time in Palermo and Naples. Italy, of course, has an international reputation as both a producer and consumer of wine. Wine accounts for approximately two-thirds of the alcohol consumed in Italy; beer accounts for just under one-quarter. This appears to be slowly changing, however, as evidence points to wine being the drink of the older generation, with increasing numbers of young people seeming to prefer beer. The volume of beer consumed in Italy increased from 17.7 million hectoliters to 18.7 million hectoliters between 2008 and 2014. Compared with other Europeans the Italians are not particularly big beer drinkers. Their annual per capita consumption is thirty-one liters, placing them 29th in Europe.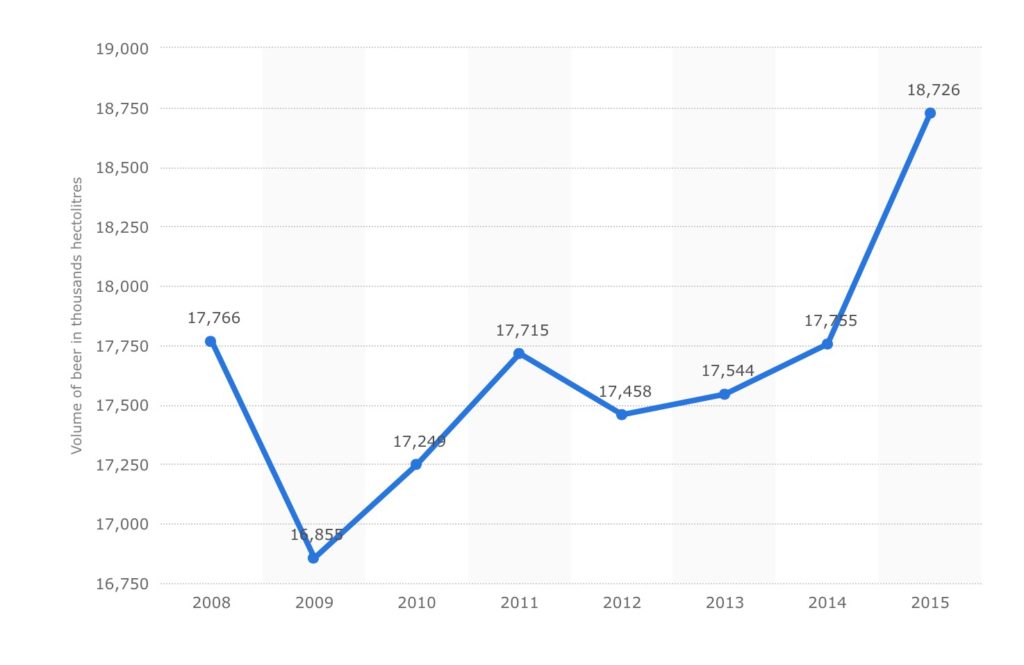 In recent years, Italy has developed a vibrant craft beer scene. And its reputation for producing some excellent brews has grown.  As of 2015, Italy had 540 microbreweries. In Europe,  only the United Kingdom, Germany, France, and Switzerland had more. The Italian craft beer market started to emerge in a significant way in the mid-1990s. Its growth resulted in more beer choices for the Italian beer consumer. According to a report by McKinsey & Company, in Italy "there were eight times more new beer products on retailers' shelves in 2012 than in 2007".
The emergence of a vibrant craft brewing sector in Italy does not surprise me. The country was, after all,  the birthplace of the slow food movement in the mid-1980s. Now an international movement with members in one hundred and sixty countries Slow Food's goal is "to prevent the disappearance of local food cultures and traditions, counteract the rise of fast life and combat people's dwindling interest in the food they eat".  According to Agostino Ariol, one of the pioneers in the Italian craft brewing movement, "Italians are extremely curious about food and beverages. They like tasting new things. The Slow Food movement pushed people in the direction of awareness about what they drink and eat. They now want a closer relationship with the people who produce the goods. They want stories and emotions. Craft beer is all this."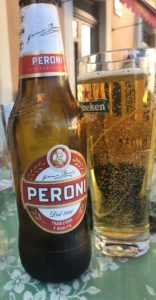 As in the United States, despite the growth in the number of craft breweries, beer produced by the large macro-brewers still dominates the Italian beer market. Heineken is the market leader with a 36.2% market share, followed by Peroni (15.5%),  AB InBev (14.8%), and Carlsberg (9.7%). Peroni is perhaps the name that I most strongly associate with Italian beer. Founded in Vigevano in Lombardy, Italy, in 1846, the brand was purchased by the Japanese brewer Asahi in 2016. It was purchased from AB InBev, who agreed to sell it to Asahi in order to avoid any anti-trust issues surrounding its proposed purchase of SAB Miller.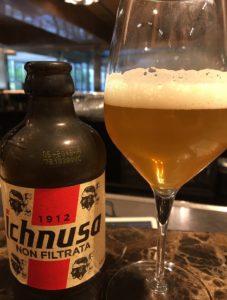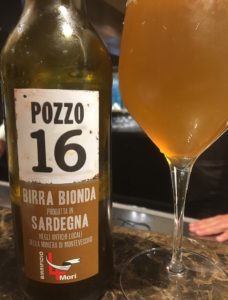 I sampled a few Italian craft beers during my visit. In L'Aquila, over dinner, I had a 750ml bottle of weizen (5.2% ABV)  brewed by ANBRA (Anonima Brasseria Aquilana), a small brewery located in the city. When I got to Cagliari, I tried a number of locally-produced beers. After checking into my hotel I headed for the hotel bar. Once there, I asked the bartender for a local beer. He produced a bottle of Ichnusa. Ichnusa is brewed in Assemini, about seven miles (twelve kilometers) northwest of Cagliari. The original brewery was opened in 1912, relocating to Assemini in 1963. In 1968, the brewery was acquired by Heineken, and it is the Dutch brewing giant own Inchusa today. Despite being owned by a large multinational company Ichnusa claim on their website that "we have been faithful to our traditions."  The unfiltered Ichnusa that I tried was a 4.7% ABV lager. As I was finishing my second Ichnusa, a new bartender relieved the one on duty. He saw that I was drinking Ichnusa and asked me if I wanted to try another Sardinian beer. I said yes, of course. So he presented me with La Bionda, a 4.7% ABV lager, from Birrificio 4 Mori.  (Birrificio is the Italian word for Brewery). The brewery is located in Guspini, a town of approximately twelve thousand inhabitants, thirty-nine miles (sixty-two kilometers) northwest of Cagliari. According to the brewery's website the beers  produced at Birrificio 4 Mori are brewed in accordance with the Reinheitsgebot, the 1516 Bavarian purity law. Sitting at the bar the next evening, I tried another of Birrificio 4 Mori's offerings – La Rossa, a 5.5% ABV Amber Lager.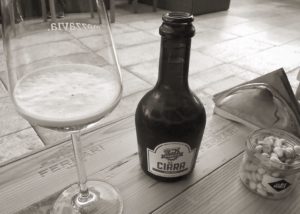 I visited a few sidewalk cafes while in Cagliari, where I sampled a couple of other Italian craft beers. These included Duenna, a Farmhouse Ale (6.5% ABV) brewed by Birrificio Barley which is located in Maracalagonis, seven miles (twelve kilometers) northeast of Cagliari. One of the interesting facts about Birrificio Barley is that it's beers are exported to the United States. Another beer that I tried was  Ciära, a Blonde Ale (5% ABV), brewed by Birrificio Ex Fabrica. Birrificio Ex Fabrica can be found in the neo-medieval hamlet of Grazzano Visconti in the country's Emilia-Romagna region. Like Birrificio 4 Mori, Birrificio Ex Fabrica brews in accordance with the Reinheitsgebot.
All in all my trip to Italy very enjoyable.  Each time I visit Italy the craft beer scene has improved over my previous visit. There are more breweries and craft beer is more readily available in a wider variety of bars, restaurants, and cafes. It is an indication of not just a maturing industry, but also of consumers who are becoming more discerning and more sophisticated in their tastes. All of this bodes well to the future of craft beer in Italy. I am already looking forward to my next visit.