I travel quite a bit in my line of work. And every now and then I come across a bar to which I know I will return should I visit that particular town or city again. Loos American Bar in Vienna, Austria is one such bar. I first visited Loos in August of 2012. A few weeks ago I was back in Vienna and found myself at Loos once again. Loos has everything – a fascinating backstory,  a wonderful ambience, and a fantastic selection of cocktails;  more than all of these things, it is an architectural gem. Ironically, given that The Beer Professor has chosen to feature this bar in his blog, Loos' beer selection is far from impressive (more about that later).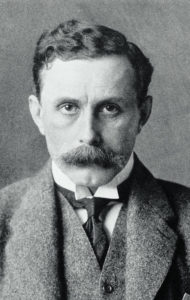 Adolf Franz Karl Victor Maria Loos (1870-1933) was an Austrian architect who has been described as "one of the most influential European architects of the late 19th century". From all accounts he was more influential for his writings than his works. In his writings he advocated that building design should be driven by pragmatism. He opposed ornamentation and anything that did not have a rational function. As a result "his buildings were often composed of pure forms and were justified by their economic practicality and utilitarian qualities."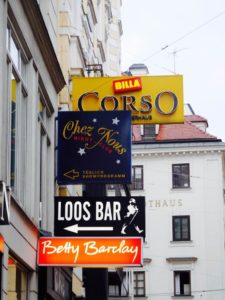 At the age of twenty-three Loos moved to the the United States where he lived for three years (1893-1896). While in the U.S. he was impressed by American innovative efficiency, particularly with respect to industrial buildings, furniture, and clothing. The work of Louis Sullivan had a particular impact on him. Upon returning to Europe Loos settled in Vienna, making it his home. In 1907-1908 Loos designed and built the Kärntner (Corinthian) Bar. It was so named because of its location just off of Kärntner Strasse. It was Vienna's first  American bar.  Indeed British architect Sean Griffiths notes that "as well as being a very radical piece of early 20th century design, as Europe's first ever cocktail bar (cocktails are an American invention) it brought a decadent New World experience to an old imperial Europe on the verge of catastrophic dissolution." Exactly  when it transitioned from being referred to as the Kärtner Bar to Loos American Bar is uncertain.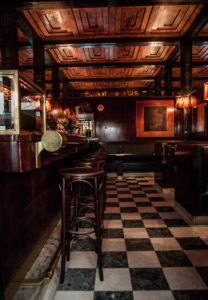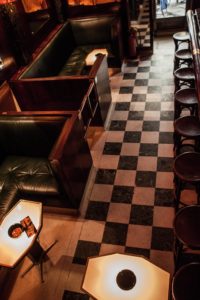 The interior of Loos was described in a 2013 story by Frederic Morton in Vanity Fair magazine. Morton describes Loos as follows – "In a low-wattage speakeasy dusk floats a saloon of only 290 square feet, expanded by wall mirrors to suggest a glimmering spaciousness. The materials are elegant: mahogany (the bar counter and paneled ceiling), onyx (the backlit wall tiles), and marble (the green and white squares of the floor). Loos somehow conjured a modernist mirage, akin to the Cubism Picasso was creating simultaneously in Paris." Griffiths describes Loos' interior as "astonishing". It is an interior that was used in 2012 to film a Gucci commercial.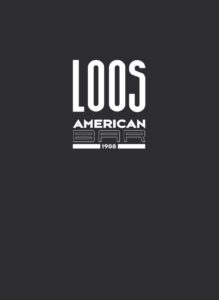 One of the things that I particularly like about Loos is the drinks menu. It is a thirty-eight page hardcover book. It contains autobiographical information about Loos, as well as both black and white and colored photographs of the bar. It also provides informative histories of different types of drinks such as aperitifs, digestifs, champagne cocktails, brandy, tequila, vodka, whiskey, and rum. The cocktail list itself is impressive. I am not a cocktail guy but I was intrigued by concoctions with names like New York Flip, Betsy Ross, Hanky Panky, and Bee's Kiss.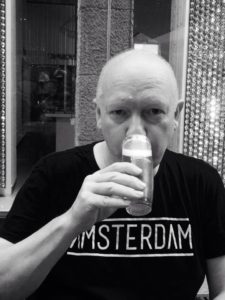 As I noted above, Loos is not a beer bar. It has one draft beer and three bottled beers available. The draft beer is Ottakringer Gold Fassl Pils, while the bottled beers are Guinness, Budweiser (the Czech one, not the American one), and Samichlaus, from the Schloss Eggenburg brewery in Vorchdorf, Austria. I opted for the local beer – the Gold Fasl Pils. Gold Fasl is brewed by Ottakringer Brauerei. Located in Ottakring, Vienna's 16th district the brewery has been around since 1837 and today is still predominantly family-owned. At Loos the Gold Fasl comes in one size – 0.2 liters. At €3.50 (~$4) it is not cheap, even by Viennese standards (the average price for a pint of domestic draft beer in Vienna is €3.50).  Inevitably if you spend enough time at Loos you will will have to pay a visit to the restroom (Loos' loo if you will). Be careful – like many European bars the restroom is to be found in the basement and the stairs to get there are both steep and narrow – not   an easy journey if you try to make it after too many cocktails.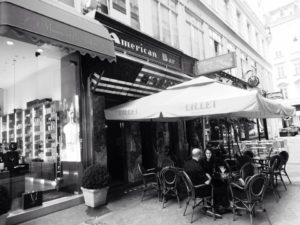 If you are ever in Vienna go to Loos. It is right there in the city center, sandwiched between Chez Nous Nightclub (a strip bar) and Maison de Perfum (a perfume retailer). Have a beer (or a cocktail), sit for an hour or so, and soak up the ambience. On my last visit in 2012 I sat inside the bar; this time my wife and I sat at one of the sidewalk tables just outside the bar. When we got there in the mid-afternoon we were one of the few folks sitting outside; but within an hour it picked up and was soon bustling. It was a great place from which to people watch – both other patrons and passers-by.  I doubt I could visit Vienna without going to Loos. It would be like going to Tokyo and not stopping off at Bar Monde or going to Amsterdam and not having a few beers at Brouwerij de Prael – unthinkable.