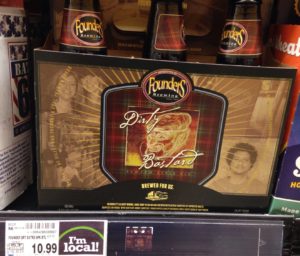 I was in my local Kroger grocery store last week. Those of you who are Facebook friends with me will know it as Scary Kroger (yes people have been shot in the parking lot). I pretty much follow the same pattern winding my way through the aisles every time I go there. The last aisle I usually wander down is the one with beer in it. I do not buy much beer from Kroger but always like to check out what they have to offer. Last time I was there I noticed that a number of beers had the words "I'm Local" next to or incorporated into the price tag. Kroger have been using these "I'm Local" designations for quite some time but I never paid much attention to them before. So noticing them got me thinking – what does it mean for a beer (or any product for that matter) to be identified as a "local"?
As a trained geographer I think of "local" as an inherently geographic concept. When I hear the term "local" a number of adjectives spring immediately to mind – nearby, close, and proximate being just a few.  It is also a relative concept – beer brewed in Toledo is more local than beer brewed in Detroit, MI, which is more local than beer brewed in San Diego, CA. Which, of course, begs the question as to when does beer cease being local and become, well, non-local?
There is no straightforward answer to that question. There are almost as many different definitions of local as there are styles of beer (The Brewers Association recognizes over 150 different styles of beer). According to the 2008 Farm Act passed by the United States Congress local foods are defined as those that are transported less than four hundred miles or come from within the state that they are produced. Many consumers disagree with this definition, considering a four hundred mile radius too generous. A 2015 study by A. T. Kearney found that consumers have a stricter definition of local. Ninety-six percent of consumers surveyed believed that for a product to be local it had to be made or produced within a one hundred mile radius of the point of sale – this was up from 64% in 2013. This suggests that consumers are perhaps rethinking the meaning of local and are redefining it to be even more geographically restrictive.
Not surprisingly different retailers define local differently. Wal-Mart, the country's largest retailer, defines a food as local if it is grown in the same state as it is sold. From one perspective this is a problematic definition – states are different sizes; Texas, for example, is much larger than Rhode Island (two hundred and twenty times larger in fact). Whole Foods defines any food that is produced within seven hours of one of its stores as local. As for the grocery store where I purchase a lot of my groceries, Kroger, a local food is defined as coming from within a four hundred mile radius. On my last visit to my Kroger I counted beer from nine breweries labeled as local – Bell's in Kalamazoo, MI;  Brew Kettle in Strongsville, OH; Christian Morlein in Cincinnati, OH; Fat Head's in Middleburgs Heights, OH; Founders in Grand Rapids, MI; Four String in Columbus, OH; Great Lakes in Cleveland, OH; Maumee Bay in Toledo, OH; and Rhinegeist in Cincinnati, OH. Interestingly beer from Atwater in Detroit, MI was not labeled as local – an oversight perhaps?
The fact that some retailers promote some goods as being local, however defined, suggests that the concept has some currency. And there is no question that demand for local food is increasing. This can be witnessed by the increasing numbers of farmers markets, community gardens, CSAs (community supported agriculture), and yes craft breweries. For example, between 1994 and 2014, the number of farmers' markets in the United States increased from 1,755 to 8,284. During the same twenty-year period the number of craft breweries increased from 537 to 3,676. The demand for locally-made products is referred to as neolocalism. Neolocalism was defined in a 1996 paper by James Shortridge as the "deliberate seeking out of regional lore and local attachment by residents (new and old) as a delayed reaction to the destruction of modern America of traditional bonds to community and family". In other words many Americans are seeking out products that have a connection with the local community in which they live. Small scale craft breweries that are independently-owned and operated by people who live a few miles away certainly satisfies this demand for a product, beer, that has its roots firmly embedded in the local community. Yes the yeast, hops, and malted grains that go into the beer may be imported but the water and the creativity of the brewer are very much local. In a 2003 article  Steven Schnell and Joseph Reese (2003, 46) suggest
that craft breweries are partly a response to the "smothering homogeneity of popular, national culture" and the desire on the part of increasing numbers of people to "reestablish connections with local communities, settings, and economies," while Wes Flack, in 1997 stated that craft breweries represent a "rejection of national, or even regional culture, in favor of something more local."
Research has shown that consumers prefer local produce for a variety of reasons, with two of the most important being its superior quality and taste. In the case of craft beer its superior quality and taste (compared with macro-beer) is indisputable. And when it is consumed in the taproom of the brewery in which it is brewed there is the added bonus of product freshness, which can be particularly important for some styles of beers such as IPAs. As noted by one beer writer "beer tastes best fresh" and "the best way to get fresh beer is choose beer from local breweries." Research has also demonstrated that people, particularly younger people, are willing to pay a ten percent premium (in some cases a fifteen percent premium) for locally sourced foods. This seems consistent with what we can observe in the craft beer market where demand appears to be primarily driven by the millennial demographic who are willing to pay a premium for superior tasting craft beer.
So it seems to make good business sense that a retailer like Kroger would stock locally-produced craft beer. Indeed, this article suggests that Kroger customers are looking for local beer when they visit their local Kroger store and the company is responding by stocking beers that are brewed in the local region. And if they are going to stock local beer then it seems a good idea that they should make customers aware of the fact – hence the "I'm Local" signage.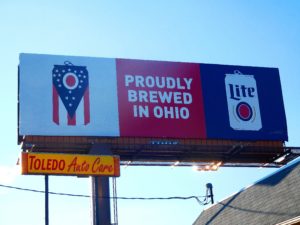 Even America's macro-brewers, Anheuser-Busch and MillerCoors, play up the local angle from time to time. Just the other day I was driving through my own city of Toledo, OH and caught sight of a billboard advertising Miller Lite – it proudly proclaimed "Proudly Brewed in Ohio". And so it is. Miller Lite is brewed at a MillerCoors brewery in Trenton, OH. Trenton is about one hundred and eighty miles southwest of Toledo, so in a geographic sense one can argue that it is local beer. In addition to its Trenton brewery MillerCoors brews beer in seven other cities across the United States. Anheuser-Busch also brews its beer in twelve breweries scattered across the United States, including one located in Columbus, OH. In 2013 Anhueser-Busch released a television commercial that emphasized the fact that it has a dozen breweries all across the country. It opened with the narrator asking the question, "Do you know where your beer is brewed?" and went on to bill itself as "America's largest local brewery", while emphasizing the role that proximity to the customer plays in the freshness of its product. Interestingly, despite their Ohio breweries,  my Kroger store does not identify any of the Anheuser-Busch or MillerCoors beers as local.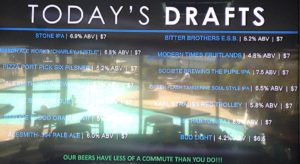 So back to question as to what constitutes a local beer. There is no clear-cut answer of course.  For me a beer brewed in Toledo is definitely local. The concept of northwest Ohio also resonates with me, so a beer brewed in Sandusky or Napoleon certainly has a localness about it. And I do find myself having a stronger emotional connection with a beer brewed in Ohio than say the neighboring state of Michigan, even though the latter may come from a brewery that is geographically more proximate. So I have a stronger affinity with a beer brewed in Cincinnati, OH (two hundred miles from Toledo) than a beer brewed in Ann Arbor, MI (fifty miles from Toledo). When I travel and go to a bar I always try to drink local beer. Typically, I ask the bartender if the bar has any beer brewed in the town or city I am visiting. In the absence of that I inquire about beer brewed in the state. So last month when I was in Charlotte, NC I sought out Charlotte brews first and North Carolina brews second. And when I travel overseas I prefer beer brewed in the country I am traveling in and increasingly, with the growth of craft breweries in other countries, from the city or region I am visiting. Whether at home or traveling there is no excuse not to drink beer that was brewed nearby. Retail outlets, bars, and restaurants are carrying more and more locally-brewed beer and according to The Brewers Association 75% of Americans who are of legal drinking age live within ten miles of a craft brewery. I was in San Diego, CA last week. While there I had a couple of beers in one of the bars at the Sheraton Hotel. Above the bar was a screen displaying the bar's draft list. With the exception of Bud Light were San Diego beers. Across the bottom of the screen were the words "Our Beers Have Less Of A Commute Than You Do!!!" Now that's some really local beer.
Further Reading:
Flack, Wes. 1997. American Microbreweries and Neolocalism: "Ale-ing" for a Sense of Place. Journal of Cultural Geography, Volume 16, numer 1, pages 37-53.
Schnell, Steven M. and Joseph E. Reese. 2003. Microbreweries as tools of local identity." Journal of Cultural Geography, Volume 21, number 1, pages 45–69.
Shortridge, James. 1996. Keeping tabs on Kansas: reflections on regionally based field study. Journal of Cultural Geography, Volume 16, number 1, pages 5-16.